The European Union is in a tussle these days with its own former ally United Kingdom. And the reason is the Northern Ireland protocol. The EU has been threatening the UK to avoid bringing the new bill that violates the existing protocol rules.
In addition, the EU wants to indulge in inducting Finland and Sweden into NATO, but Turkey somehow is not in the mood to make it happen due to its interests. So, Turkey is being pressurized by the EU on various issues like food security, defense establishments, and importantly on Greece to make it stand back.
Turkey however is not ready to move back and allow the induction. Amidst this, Boris Johnson has found a new friendship with Erdogan and looks like this move is going to create a tussle in the Bloc for sure.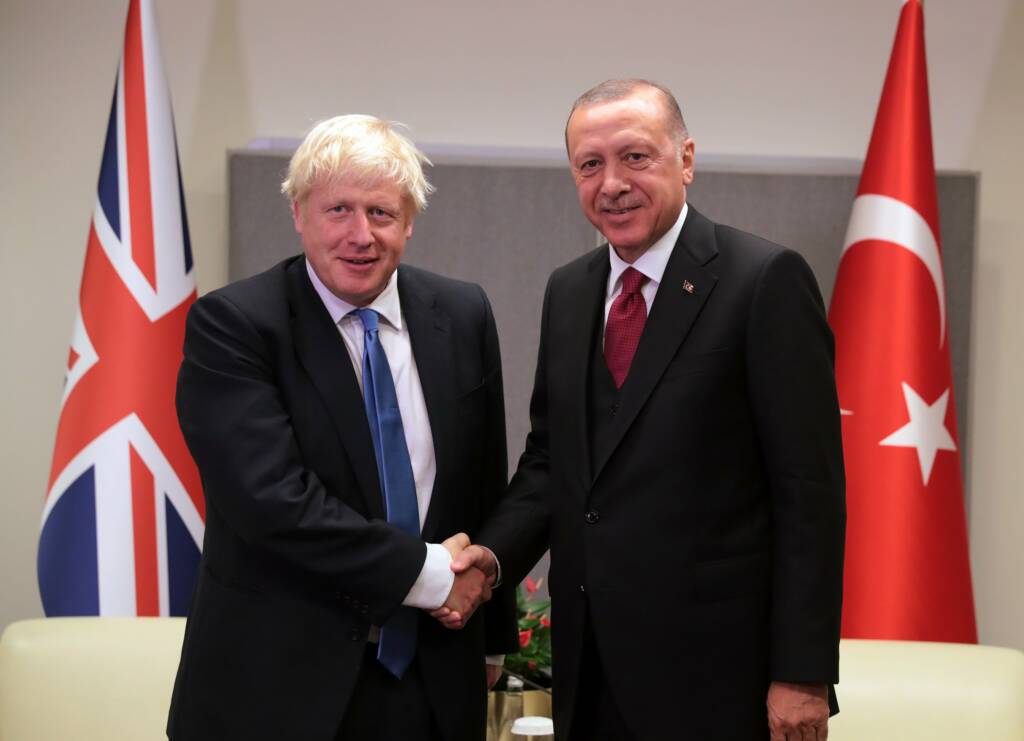 Goodbye to Sanctions
Reportedly, The United Kingdom has removed all of its sanctions/restrictions on the export of defense products to Turkey. Turkey's chief defense industry officer Ismail Demir has confirmed this.
Due to their NATO partnership, Turkey and the United Kingdom not only have close defense ties but there is also industrial cooperation. An engine for Ankara's first indigenous fighter plane, the TF-X, is planned to be supplied by Rolls-Royce and its local partner Kale.
Also, the UK government has reportedly expressed interest in Turkish armed drones, such as Baykar's Bayraktar TB2, which has been effective against Russian weaponry in Syria, Libya, Azerbaijan, and Ukraine.
So, this removal is quite important at this point as the UK is indicating easing up to Turkey and this shows two things quite clear:
UK will not back down from NI issue '
It looks at Turkey for pressuring European Union
Read More: EU's new trade sanctions are really powerful! But these will be imposed on the UK and not Russia
Turkey to pressurize the EU
The European Union thought that convincing Turkey to act to its tune will be quite easy. But they forgot that Tayyip Recep Erdogan is a tough nut to crack.
By encouraging Turkey's defense production, the UK is already adding tonnes of pounds inside the country, strengthening the nation even more. Very soon, Turkey will be able to add more weapons like F-16s into its military. This indeed is a concern for Greece and European Union.
Turkey's and Greece's rivalry is world known. Both are NATO allies but they're regional rivals in the eastern Mediterranean and they often trade barbs over Aegean airspace violations.  Greek fighter planes regularly intercept Turkish jets in its airspace, occasionally engaging in mock dogfights.
Turkey isn't on very good terms with European Union either. The bloc is negotiating for providing food and wants to keep Turkey out of Greece's business. So the UK has now extended its hand for support.
Read More: Turkey will now get food from the EU only if it points its weapons at Russia
It's like 2 enemies have joined hands to counter one common enemy. Turkey and UK's countermoves will definitely push the EU under pressure on many issues. So, UK's Turkey card move has the potential to send the EU into a state of a long-drawn internal conflict
If the EU bends to the demands of Turkey, Greece will certainly object. And if the EU bends to UK demands, the other members will object to it. This is more of a trap that the UK is trying to lay down in front of the EU.  Amidst this, Turkey's response will be interesting to watch.
Watch –