Last week, Poland inaugurated its new canal, Vistula Spit, which will allow ships to avoid Russian waters. Reportedly, the 1,300-metre-long canal cuts across the Vistula Spit, thereby linking the Baltic Sea with the Vistula Lagoon.
It will allow vessels to pass between the two waterways without having to go through the current channel, that is, in the waters of Russia's Kaliningrad exclave. So, the ships will get access to all ports of the Vistula Lagoon, and the seaport in Elbląg. This will open new development opportunities for Elbląg, Warmia, and the whole of Eastern Poland.
Global Media labeled the opening of the Canal as a historic step toward independence from Russia. Even the Polish government in its official statement stressed, " Now, Poland will gain a waterway which connects the Vistula Lagoon with the Baltic Sea and is independent of Russia. The canal will ensure Poland is safe and sovereign,"
But, there is a difference when it comes to words and deeds. Undoubtedly, the 100-km hassle that ships had had to suffer to approach the Baltic Sea is reduced by the new canal. Curiously, within the Vistula spit, something unexpected is taking place.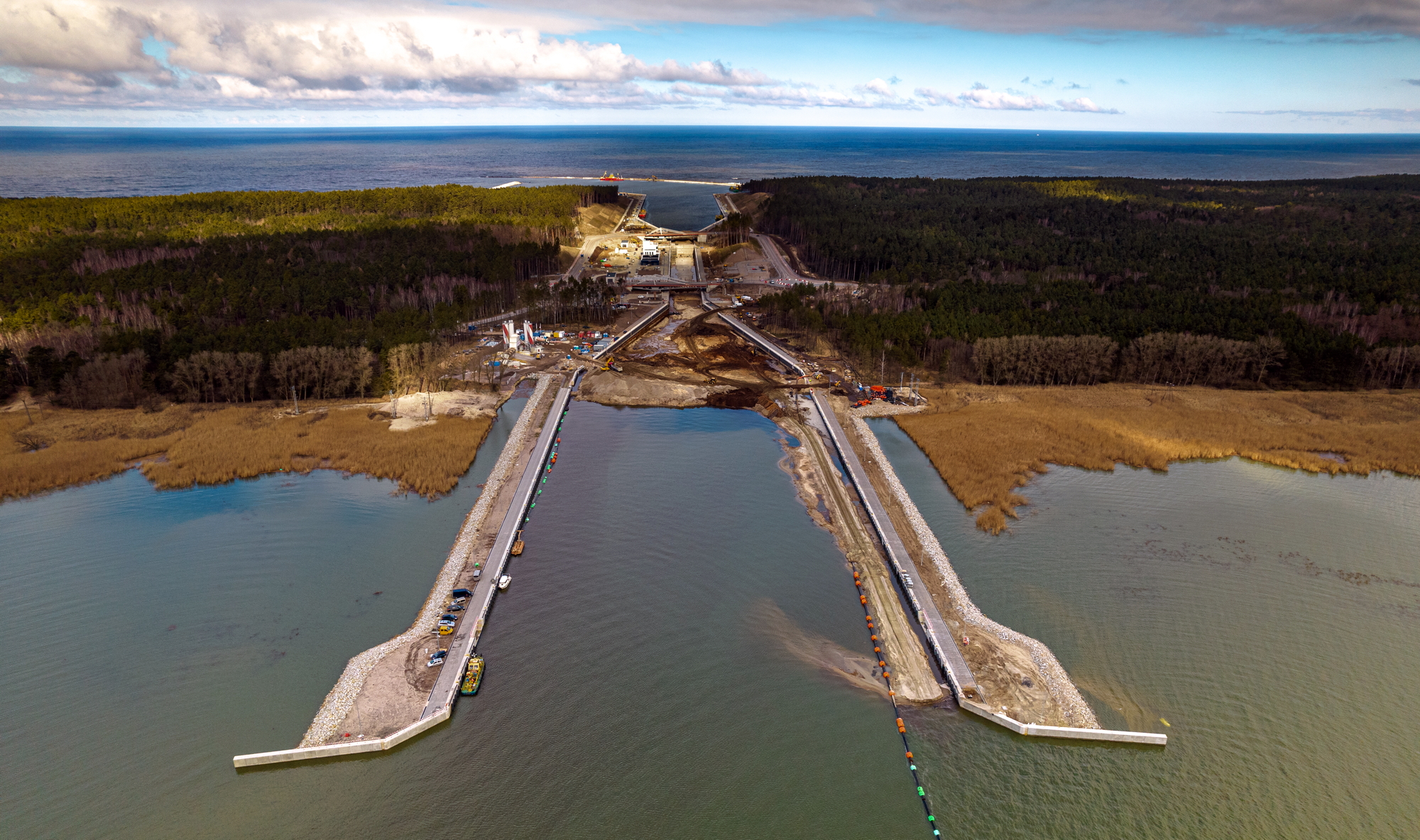 Russia enters Vistula spit 
As the Canal opened, Russia and Poland astonishingly started to use the older route to trade exclusively. According to Euractiv, after a long haul, Russia's Atlant1 ship arrived at Elblag port, located at the start of the Vistula Spit.
Szymon Jadczak, a Poland-based investigative journalist reported that a Russian ship has arrived at Polish Elblag port for the first time since the Ukraine war. The intriguing part here is that the ship came from Kaliningrad Oblast.
Do portu w Elblągu właśnie wpływa pchacz Atlant1. Nie będzie polityków PiS ani koncertu TVP, bo jednostka przypłynęła z rosyjskiego Kaliningradu. Zazwyczaj na tej trasie pchacze z barkami przywoziły rosyjski węgiel. pic.twitter.com/zHhXrKSz2a

— Szymon Jadczak (@SzJadczak) September 18, 2022
Since the ship sailed from Russia, it did not need to transit to the new canal. Furthermore, Atlant1 is not bound to the sanctions that got imposed on Russia.
According to one of the port's managers, Atlant1 is used to transport non-sanctioned products, mostly fertilizers, and building supplies. But, no one has any solid idea about what it has delivered to Poland now.
Read More: Poland has almost solved its oil woes with Russia's blessings
A Deal for Coal? 
However, we might have a substantiated answer to that question. We just need to look into the past for that.  Historically, the route was usually used for transporting coal from Russia.
By adding that fact with the current gospel of Poland suffering from an acute shortage of coal, we can easily deduce that Poland might be trading coal with the Kremlin.
Since the European Union put an embargo on Russian coal in response to Moscow's invasion of Ukraine in February, more than 3.8 million Polish households that rely on coal for heating are now experiencing shortages and hefty prices.
Poland restricted the purchase of Russian coal back in April on the grounds that it believed the 50 million tonnes of coal produced by its own mines would be sufficient to meet wintertime needs.
However, all estimates for Warsaw were crushed by the unexpected demand spike. Poland then attempted to save its face. It ordered two state-controlled companies to import several million tons of fuel from other sources including Indonesia, Colombia, and Africa. However, the plans didn't work out.
Time is running thin for Warsaw as winters are already on its doorsteps. As a result, the Vistula spit that is yet under construction was opened. Whereas, Russia and Poland are now heading to use the old route exclusively.
Read More: Poland has one foot in NATO and the other in Asia
PiS leaders, even Moraweicki and Duda have kept complete schtum over the arrival of the Russian ship. When you combine the recent developments with Poland's sudden shift toward Euroskepticism, it all makes sense.
Atlant1's arrival at Oblag following the opening of the Vistula spit shows that Poland is now keen to rekindle its economic ties with Russia. Poland has purposefully invited Russia to its critical waterways. It eyes to restart importing coal from Moscow, no matter how long the Ukraine conflict gets stretched by the West.