As a result of Kleptocracy in Sudan, the country is plagued by conflicts and tensions between the centre and peripheries. The continuous strife has made Sudan a hotspot for various powers across the globe. This time, it's Turkey eyeing Sudan. What motives does Turkey have in Sudan?
With six coups and ten failed attempts since gaining independence in 1956, Sudan is in a league of its own. Since its independence, Sudan has been dominated by Arab elites who are dedicated to robbing the nation of its tremendous resources at the expense of its people. Common Sudanese are the victims of decades of misgovernance. A quarter of the population struggles to get food, millions of people live in refugee camps, and the country has inflation rates of over 100%.
The elites, on the other hand, remain unaffected. As a result, the elites battle to maintain the status quo. The Sudanese crisis has worsened since General Omar al-Bashir, who was accused of genocide, was overthrown by a popular revolt in April 2019. In the subsequent months, the Sovereignty Council of military and civilian leaders of Sudan made peace with rebel factions, outlawed female genital mutilation, made peace with Israel, and appealed to foreign countries for economic aid.
Read More: TFI decodes the Sudanese "Fair and Final' political agreement
Though, this happiness didn't last long when another coup by General Abdel Fattah al-Burhan happened in October 2021. In a key step to end the protracted political crisis, military leaders in Sudan have decided to return control to civilian groups. An accord announced in the capital city of Khartoum called for a two-year transitional period to be managed by civilian authorities. However, no timeframe has been established for a final agreement's implementation. The USA is aggressively pushing in for a civilian government to ensure restoration of democracy.
Turkey's interests in Sudan
According to recent reports, Turkish espionage head Hakan Fidan discussed intelligence exchange and other topics of mutual interest with Sudanese military authorities in Khartoum on 16th of January. But Turkey's spy chief isn't visiting Sudan for himself. So, what is he visiting the African country for? Basically, Turkey is creating a back channel for Russia to safeguard its interests in Sudan. Sudanese Generals have been supported by Russia since long. Wagner, a mercenary group working for Russia, has given militias training and other assistance. Additionally, Russia has protected Sudan at the UN, continuing its tradition of opposing the West.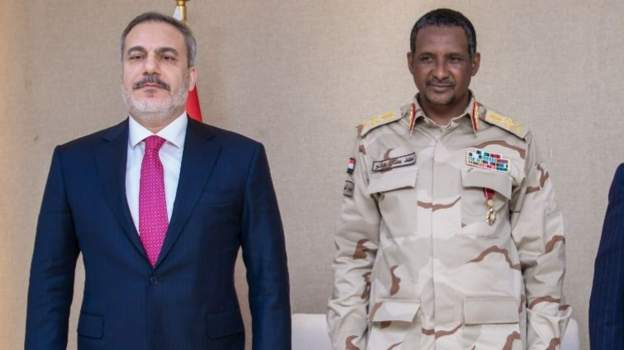 Why is Russia threatened?
That's because the US backed Civilian rule would bring openness and democracy in the country which would put financial interests of the foreign powers engaged in Sudan at risk. According to reports, in December 2020, Russia announced a 25-year agreement with Sudan to construct and run a naval station at Port Sudan on the Red Sea. It also happens to be the largest consumer of Sudanese gold. Sudan has additionally voted against denouncing Russia's invasion of Ukraine in the UN General Assembly. Hence, the civilian groups may threaten Russia's investments in the country.
But why is Turkey being approached by Russia?
To put things in perspective, Turkey has gained a good international image by negotiating the grain deal with Ukraine and Russia. It's now seen as a neutral power which supports neither West nor Russia. Turkey has even made significant inroads in Africa. Its railway project in Uganda has helped it gain some trust among African nations. Moreover, Turkey's involvement in Sudan would not direct any suspicion on Russia. Simultaneously, Turkish President Erdogan and Putin have been meeting for negotiating peace in Ukraine. But it's highly improbable that the issue of Sudan would have gone missing in the talks. Further, the importance of controlling Sudan and Africa is vital for both Russia and the West.
Read More: The US is Trying to Change Sudan's Leadership to Halt Russia's Rising Influence
Washington had stopped providing help to Sudan at the time of the military coup. It is likely that the US will take steps to limit Russian influence in the African nation especially, now that it has realised that abandoning and isolating Sudan will only work against its own geopolitical interests. Moreover, a change of power would stop the Russian backed military from continuing to rule as the nation's supreme authority, able to alter timelines and depose leaders at its own will.