At the G20 summit in New Delhi, a multinational rail and shipping project was announced, aiming to connect India with the Middle East and Europe. This collaborative initiative involves several countries, including India, Saudi Arabia, the United Arab Emirates, Jordan, Israel, and the European Union.
Its primary objective is to enhance trade, facilitate the transportation of energy resources, and improve digital connectivity across the regions involved.
Jake Sullivan, the national security adviser to President Biden, underscored the significance of American leadership and partnerships in facilitating substantial investments in such initiatives.
The endeavor has the potential to be a "game-changer" by potentially reducing trade time between India and Europe by up to 40%, marking a substantial development in international trade and connectivity.
Navigating the Energy Highway
The corridor comprises two key segments: the East and West corridor. The East corridor will establish a connection between India and the Arabian Gulf, while the West corridor will link the Arabian Gulf to Europe. India will play a pivotal role by providing port facilities that facilitate the seamless flow of trade and energy resources from the Gulf to Europe.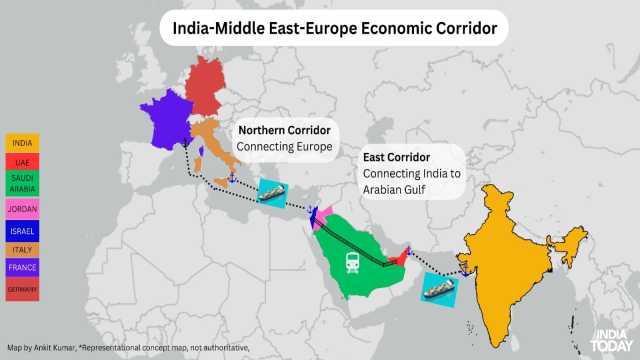 An integral aspect of this project involves the installation of power and data cables along the railway route, thereby fostering digital connectivity and bolstering communication and trade opportunities.
Additionally, the initiative encompasses the construction of pipelines designed to transport hydrogen generated from renewable energy sources. This hydrogen will be harnessed for power generation, aligning with clean energy initiatives.
The Energy Chessboard
The IMEC corridor is regarded as a vital route to Europe and a direct challenge to China's Belt and Road Initiative (BRI), a perception that holds some truth. 
The United States aims to position India as a credible alternative partner to China for global infrastructure development in emerging economies. However, the significance of the IMEC corridor transcends the BRI and surpasses initial expectations.
This corridor primarily seeks to forge a robust energy partnership between India, Saudi Arabia, and Europe, an objective India has unequivocally embraced in cooperation with Saudi Arabia. 
Europe continues to grapple with a severe energy crisis, which has had a profound impact on the entire Eurozone. Germany, Europe's largest economy, has slipped into a recession due to the energy crisis, significantly hampering the country's economic output. 
Read More: From Green to Gray? Crippled Germany is going back to the Basics
Europe's Energy Quandary 
Following the Ukraine war, the country's economic growth has slowed to a mere 0.1%, with major German businesses considering relocating.
France and other European nations are facing similar challenges, but the crisis is most acute in smaller countries like Slovakia and Moldova. While the European Union has shifted its focus to liquefied natural gas (LNG) as a response, the demand for instant solutions still persists. 
As a result, the 27 nations in the western block of the EU are in dire need of secure energy supplies. And so, despite EU sanctions on Russian energy, Russian energy sources continue to find their way into Europe, underscoring the complexity of the situation.
It's not an uncommon occurrence for nations like Hungary and Bulgaria to express their preference for Russian energy openly. However, several other countries indirectly receive Russian energy through third-party nations. 
Spain serves as an example, with reports of increased imports of Russian natural gas. In July 2023, Spain's imports of Russian natural gas surged by 65% compared to the same period the previous year.
Moreover, India, a key player in the IMEC corridor, brought attention to the European Union's rules that permit Russian energy imports via third-party partnerships. 
India and Saudi Arabia have emerged as crucial players in the context of the energy dynamics between Europe and Russia. India has become a significant importer of Russian energy in recent times, reflecting the growing importance of energy trade with Russia. As a result, India's energy re-exports to the European Union (EU) have seen a notable increase.
Read More: Obama-Trump-Biden: The three European overlords whose diktats led to an energy crisis in Europe
India and Saudi Arabia: Energy Allies
In the fiscal year 2022-23, India's record-high imports of crude oil from Russia allowed its refiners to boost exports of diesel and jet fuel to Europe. Ship-tracking data from Kpler and Vortexa indicated that Europe's imports of diesel and jet fuel from India surged from an average of 154,000 barrels per day (bpd) to 200,000 bpd after the EU imposed a ban on Russian oil product imports on February 5.
Saudi Arabia found itself in a similar position. Before India took over as Europe's largest oil supplier following the Ukraine war, Saudi Arabia reluctantly filled the gap.
US President Joe Biden's strong condemnation of the Jamal Khashoggi murder and the European Union's accusations pushed Riyadh into a tight position, compelling the West to resist negotiations with Saudi Arabia.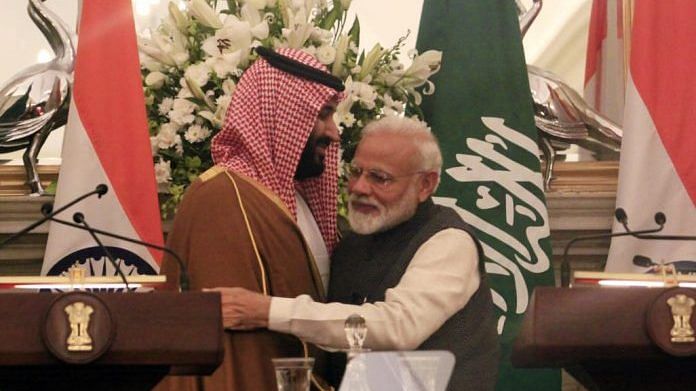 However, the Ukraine conflict forced the Western nations to seek cooperation with Riyadh, the Middle East's largest oil producer. Saudi Arabia intentionally denied cooperation with the West, often publicly denying deals with the West and leveraging OPEC+ oil production cuts as part of its strategy.
To secure cooperation from India and Saudi Arabia, President Biden and the EU pursued diplomatic measures. Biden personally visited Saudi Arabia and apologized to MBS, further proposing the normalization of ties between Tel Aviv and Riyadh. This diplomatic outreach was also evident at the G20 summit, where Biden, MBS, and Modi were frequently seen together.
Read More: India's foreign minister went to the EU and destroyed it with their own laws
Tough times have indeed called for tough measures, and these diplomatic endeavors reflect the strategic importance of energy partnerships in a rapidly changing global landscape.
The IMEC initiative represents a strategic move to establish a new trade route. The hope is that this initiative will garner support from key leaders like Putin, Modi, and MBS. So that Europe's energy crisis could ease up a bit. 
Watch More: