Chinese copies of world-class cars
China is taking reverse engineering to a whole new despicable level. Clothes, mobile phones, military hardware and automobiles- the Communist nation is copying every single foreign product. When it comes to cars, Chinese companies have been silently stealing designs of every expensive car you have wanted to lay your hands on.
Chinese copy cars industry is bigger than you can imagine. You name any car that you always wanted to own, and we bet that China has produced its clone. Mercedes GL Class, BMW X1, Toyota Innova Crysta, Porsche Cayman, Lamborghini Diablo, Mercedes Benz C-Class and Cadillac Escalade, McLaren are just some of the world-class cars that China has copied.
Rolls Royce Phantom (Geely GE) – Chinese copy car #1
That's a big catch, yes. China actually copied the 'Rolls Royce Phantom'- the most luxurious automobile brand we can think of. Geely GE has copied everything you can think of- the fascia, headlamps and even the 'Spirit of Ecstacy'. Also, Geely GE displayed it at the Shanghai Motor Show. The clone was placed very close to the real Phantom. Rolls Royce found it hard not to notice the similarity. But Geely said no, we don't think they are similar.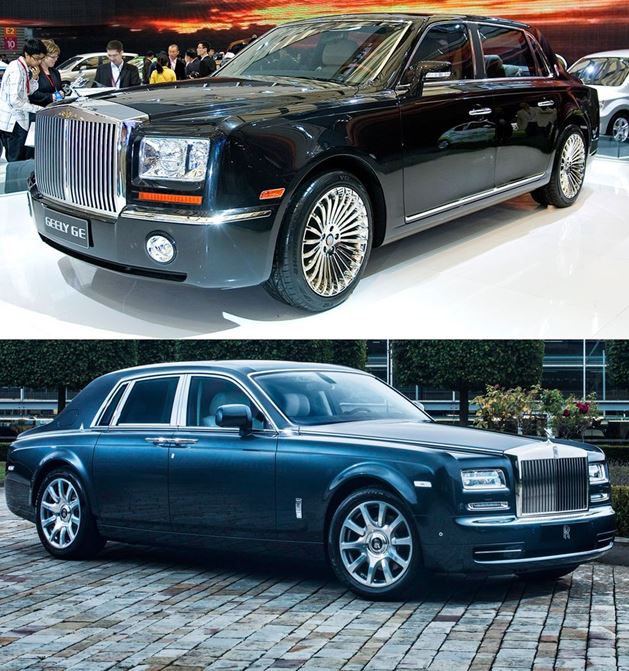 But Phantom carries a powerful and impressive 6.57-litre V12 engine. And the Chinese copy car drags with a 3.5-litre V6 engine. To make it worse, China sells its copycat for $44,000 while the opulent Phantom costs $3,50,000.
Maruti 800 (Jiangnan TT)
Sounds a little lame right. Why would someone copy the Maruti 800? It's the budget car that the Indian middle class loved to own until the last decade. But then, Chinese companies have this habit of copying foreign brands and closing their own markets, while flooding the rest of the world with their own products.
3. Porsche Cayman (Suzhou Eagle Carrie)
Now, this is seriously overdone. China's Suzhou created "The Eagle Carrie". The front fascia imitates Ferrari's F12 Berlinetta, whereas the rear resembles Porsche Cayman. So, China fused two supercar brands to create yet another disaster in automobiles.
Lamborghini Diablo (Diablo VT)
Now, this is just lazy. China copied not just the design, but also the name. So, Diablo VT is the first-ever sports car to be manufactured in China (except for the design and the name which aren't Chinese).
BYD S-8.
This Chinese vehicle is very unique. It doesn't steal the design of any one foreign brand. Because it steals its design from two foreign brands- Mercedes and Renault. So much for Chinese innovation!
This unique beast was the first Chinese hardtop convertible launched in 2006. Originally called "F8". But "F" was replaced with "S" because China wanted to do justice with its sporty character. It is so sporty that it hits 60 from 0 in just 14 seconds! 
Mercedes Benz C-Class (Geely Merrie 300)
Geely has made it to the list yet again. Remember how they copied Phantom? Perhaps, the automaker wanted to play it subtly after copying Rolls Royce, so it chose the Mercedes this time.
Merrie 300 copies headlights, grille and even the protruding ornamental brand logo from the Mercedes C-class. Again, the same looks but a far cheaper price.
Toyota Innova Crysta (Changan Lingxuan)
Not everyone in China wants to copy Mercedes, BMW, Rolls Royce, Porsche or Ferrari. So, Changan chose the go to Multi-Purpose Vehicle (MPV) Innova Crysta.
Everything in Lingxuan resembles Crysta, except Toyota's powerful engine. The Chinese clone runs with a 1.6-litre four-cylinder petrol engine producing mere 125 hp 160Nm of torque.
Mini Cooper (Lifan 330)
Well admit it, you always wanted to own this little hatchback- Mini Cooper. So, a Chinese automaker decided to go ahead with his dream and manufactured Lifan 320. Except for the headlights, Lifan 320 looks fully like Mini Cooper. Since no one seemed to bother, the Chinese automaker gave its copy a facelift and manufactured Lifan 330 that resembles Mini Cooper even more clearly.
Copying exteriors is becoming too mainstream in China. So, Lifan 330 also copied its dashboard from the Mini Cooper. And even its stereo is round.
As for the Lifan 320, it also became popular for scoring 0 in the Latin NCAP. Apparently, safety levels is the only thing that Chinese automakers don't want to copy. The 320 was also considered one of the least safe cars in the world, even though it resembled Mini Cooper.
Jaguar Range Rover Evoque (Jiangling Landwind X7)
Well, even the Beijing Chaoyang District Court felt this is too much. The UK-based Jaguar sued Jiangling Motor Corporation. Apparently, because the Chinese copy carmaker's Landwind X7 resembled the premium Range Rover Evoque.
Even a Chinese court couldn't refute the obvious resemblance and held that five major features were copied by the Chinese company, while ordering  Jiangling to stop production, sales and marketing of Landwind X7.
Automobiles form a cash-rich industry with the most expensive products on offer. But China simply copies everything from defense hardware to clothes and even mobile handsets. The products are often cringe-worthy and embarrassing just like China's copy-cat cars.