Chinese Communist Party and Xi Jinping have become really scared of their premier wealth creators. Not much time has passed since the crackdown on Jack Ma and his Ant Group, now CCP has moved onto another target. The CCP is keen on cutting the wings of the companies which have the potential to become too big as per their standards.
Social e-commerce giant Pinduoduo has recently surpassed Alibaba in active annual users, tallying 788.4 million users in 2020, overtaking Alibaba's 779 million. The news comes on the same day Pinduoduo founder, the 41-year-old Colin Huang (Huáng Zhēng), stepped down as chairman of the company's board of directors. Huang will be replaced by Chén Lěi, who will be the new CEO.
The Chinese Communist Party had already taken down the Jack Ma's Ant group and as Pinduoduo surpassed Alibaba, CCP has turned its focus on them. Huang would be "stepping back from day-to-day management to work on the company's long-term strategy" and "pursue research in the food and life sciences," according to a company press release. However, we all know these are similar positive assessments that were made regarding Jack Ma.
Read More: Xi Jinping wanted to destroy Jack Ma, but Jinping has dismantled the sector which drove Chinese economy during pandemic
During several meetings dating back to last year, Beijing expressed concerns about Alibaba's media assets, according to the source, who asked not to be named because the discussions were private. The company's dominance over social media in China as well as its involvement in an online controversy involving one of its executives, has enraged the CCP.
Alibaba's co-founder Jack Ma has been the subject of the crackdown that started last year and threatened the e-commerce giant and its finance subsidiary Ant Group Co. The Chinese government has asked Alibaba to sell its media assets, according to the Wall Street Journal. Beijing is worried that Alibaba's media assets may be used to influence public opinion, forming a "vicious circle," according to the source. The source also revealed that the company's media has already influenced the general public's perception of the evolving fintech market.
Read more: After destroying Jack Ma's Ant Group, CCP begins to crack down on Ma's media empire
Chinese Communist Party mouthpiece Global Times has already worked a great set of articles to shatter the image of the company and the groundwork is already prepared. It ranged from pirated books to overworking labour. Pirated books sold on China's e-commerce platform Pinduoduo exposed by a social media article brought the piracy issue of books back into the media spotlight recently, Global Times reported.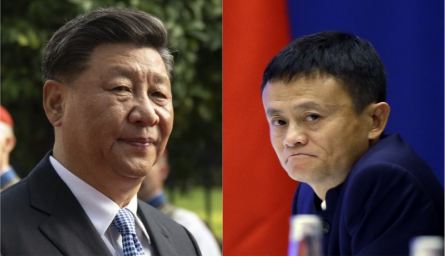 Pinduoduo has ambitions to be China's largest grocer and to promote "digital inclusion in rural communities," according to a company statement released yesterday. "Rural revitalisation" using technology is fully in line with the current government policy. Pinduoduo faced intense scrutiny this January when a worker died by suicide and another collapsed after walking home from work. The CCP is now at the neck of this company and it looks like the days are limited for them after the Jack Ma episode.