A move that comes straight out of a dystopian sci-fi movie, China and its authoritarian regime led by Xi Jinping is planning to establish a joint venture with local technology giants that would oversee the lucrative data they collect from hundreds of millions of consumers. According to an SCMP report, the preliminary plan, which is being led by the People's Bank of China, would mark a significant escalation in regulators' attempts to tighten their grip over the country's internet sector.
Earlier this month, in a government report, outlining the Communist Party's top priorities for the next five years, tech companies were encouraged, or rather coerced, into opening up their data in order to promote the healthy development of online economies.
By establishing the government-backed entity, Xi Jinping is trying to take complete control over these firms and use their precious data of local as well as the global audience to engineer his plans of world domination. The proposal to create such a venture comes at a time when CCP has waged an out and out war against the tech giants such as Alibaba, Tencent and their founders for becoming bigger than the CCP General Secretary.
Read more: Chinese President Xi Jinping starts a parallel tech war with Chinese companies in China
As soon as the Frankenstein news of Jinping's horror idea hit the newsstands, shares of Alibaba, JD.com, VIPShop, Tencent, Pinduoduo, and Meituan all fell on the day. Streaming and music stocks from China like Tencent Music Entertainment and IQIYI were especially hurt, falling roughly 18 per cent and 20 per cent, respectively.
While Jinping had refrained from mouthing harsh words during his tussle with Alibaba founder Jack Ma and instead relied on his minions to do the dirty work, the Chinese President, buoyed by the success of taming Ma, is now openly threatening the entire tech sector of China.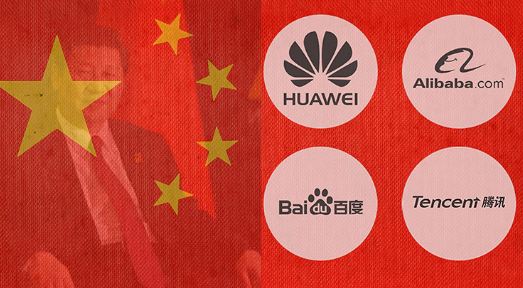 According to a Bloomberg report, Xi Jinping, in a meeting of the communist party's top financial advisory and coordination committee, followed the five-year plan with a warning on March 15 that his government would go after the so-called 'platform' companies. The CCP leader said that these companies had amassed increasing power by securing the data of hundreds of millions of Chinese consumers.
Read more: The fear of Jack Ma and Shanghai faction makes Jinping go for another Purge in China to get rid of all dissenters
Much like Facebook Inc. or Google, the enormous amount of information that China's internet giants hoover up in real-time is the key to their bottom lines as well as their ability to innovate and expand. But Beijing has grown increasingly wary of the might of the companies such as Alibaba and Tencent and their potential to influence public opinion.
Read more: Xi Jinping stopped the IPO of Ant Group because of his animosity with Jack Ma. Turns out he was also quelling a rebellion by doing that
Despite keeping close tabs on what goes on the internet in China, Xi Jinping has been having a hard time censoring the content as tech companies like Alibaba and Tencent hold the overwhelming power of swaying public opinion. Jinping wants to tap this grey area and consolidate his power position for the next decade or two, at least.
It is still not clear as to what would be the scope and scale of the joint venture, but it seems clear that Xi Jinping and the entire Politburo sitting in Beijing is planning to move ahead with the plan.
When Xi Jinping first came to power in 2012, he started his tenure with a massive purge of government officials who could have potentially been a roadblock in his way. Nine years down the line, the Chinese President is preparing for another round of showdown, albeit this time he is looking to usurp the 'data-power' of tech behemoths to rule the public with the utmost severity and without any opposition.