Vietnam has elected a new President and a Prime Minister. The President was at the forefront of the anti-China movement in South East Asia taking China to the cleaners during his term as Prime Minister. Now Nguyen Xuan Phuc has been elected as President and he and his Prime Minister have now set their eyes on Big tech that have seen their powers curbed throughout the globe and now Vietnam is doing the same.
Vietnam has been trying to regulate Big Tech for years but has not been able to do so, but this time it is going to be different. From India to Russia, Poland, France, Germany and Australia, states all around the globe have been cracking vehemently down on Big Tech after they permanently banned the account of former US President Donald Trump while he was still in office. Vietnam is joining in the moment which would not just curb the influence but would force them to hand over more Data and Taxes.
In an effort to improve government scrutiny in one of the world's fastest-growing digital markets, Vietnam is proposing a pair of regulations that would force global tech giants like Alibaba and Google to hand over more taxes and data.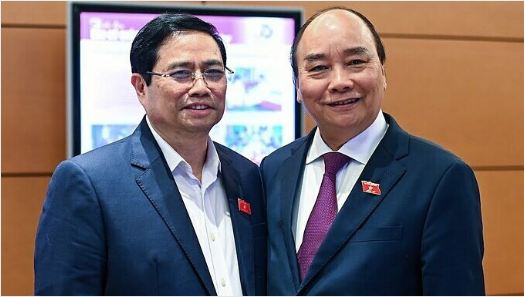 One plan would grant state inspectors access to the e-commerce site's internal data on vendors, while the other would implement a tax collection regime that a trade association sponsored by Apple and Japanese e-commerce giant Rakuten called "onerous" and "concerning."
Although Hanoi has been attempting to regulate Big Tech for years, especially those companies based overseas that are difficult to access, the two most recent proposals specify the tools he would employ.
When it comes to taxes, officials in Vietnam intend to go where the money is: Banks. The proposed circular would force banks in the country to comb through their customers' accounts and withhold taxes on any payments made to international companies for e-commerce and digital services. If a Vietnamese customer buys a Netflix subscription, her bank will subtract a portion for tax and give the remainder to the American streaming service.
The other legislative framework targets e-commerce websites, which would be expected to establish a search mechanism that would allow the government to access their third-party merchant information. According to the proposal, authorities may use these documents to look into suspected sales of counterfeit products and other infractions by online retailers.
While companies have expressed disappointment, both proposals have supporters. According to Long Pham, a manager at Access Ventures, which invests in tech companies, online shops have "a big counterfeiting issue," so it's only fair for Vietnam to implement solutions like the search tool to tackle the problem. He also believes that taxing companies that benefit from Vietnam's nearly 100 million-strong market but book their income in lower-tax jurisdictions is also fair.
Countries have tried for a long time to find a global agreement on taxing cross-border tech companies, most notably through the Organisation for Economic Cooperation and Development. After long delays, an agreement seems to be more possible now that the White House has a new administration that is more supportive of the OECD talks. To deter tax avoidance, US Treasury Secretary Janet Yellen called for a global minimum corporate tax on Monday.
Read More: Vietnamese Prime Minister was at the forefront of anti-China movement and now he has been elected as the President
However, Matt Lourey, managing partner at Acclime, a tax and business consulting firm, believes that in the short term, the Southeast Asian nation would make an example of one or two tech whales. He stated that corporations would either comply with the new tax laws, thus encouraging smaller businesses to do so, or face penalties, such as getting their websites blocked in the country. Google and Facebook, are two of the most often targeted companies in Vietnam's tax disputes and by implementing these regulations, Vietnam will heavily crackdown upon them. According to Pham of Access Ventures, both the tax and search tool plans would expose international firms to the same scrutiny as domestic competitors.
Lourey added, "These new reinforcements of anti-counterfeiting [rules] would actually help local brands, just as the new tax laws are helping local companies to win over local consumer markets by leveling the playing field."
After Donald Trump was permanently suspended from Twitter and other social media platforms, outrage followed. There was a big outcry to limit the powers that these social media behemoths have been allowed to enjoy. Recently, the Russian government has been grilling Twitter over its failure to remove 'banned content'. Hefty fines, slowdowns and threats of an outright ban- the social media giant was looking at a deep decline. A Russian court fined Twitter $116,778 over its failure to remove banned content. While Twitter did start to remove the banned anti-Russian content, Putin is keeping the platform on tenterhooks and has extended the ongoing slowdown until mid-May.
Read More: H&M angered Vietnamese to please the Chinese. Now they are being boycotted in Vietnam too
Similarly, India, Germany, France and Poland had all cracked down upon Big tech and had forcefully cut down their powers. Meanwhile, Australia forced Google to pay up on their use of news from other websites.
Though, it is not just the Big tech that Vietnam has been assertive on. From taking China on in the dispute in the South China Sea to boycotting H&M for toeing CCP's political line in the South China Sea region, Vietnam has become more assertive and more resolute.
Vietnam has been staring at impediments in the face and has resolutely stood strong against them. The last five years of Nguyen Xuan Phuc as Prime Minister has emboldened Vietnam. Now under his Presidency, Vietnam can rise further. The last five years have been constructive for Vietnam in carving a prominent place for itself in South East Asia and with the latest crackdown on the nefarious Big Tech, the future looks better in the hands of Nguyen Xuan Phuc.