Chinese President Xi Jinping seems to have borne some personal grudge against China's conglomerates. In the past few months, a megalomaniac Jinping has reined in the country's top business houses, unleashing another round of punitive actions against those seeking enlistment on the USA's stock exchanges. China's debt-mired Evergrande Group is no different. Media reports suggest that China is concerned about the systemic risks posed by the Evergrande group to the world's second-largest economy.
Evergrande's founder Hui Ka Yan was recently rebuked by officials of the Financial Stability and Development Committee who reportedly urged Hui to solve his company's debt problems "as quickly as possible". Despite Evergrande's poor financial records and Jinping's new founded hatred against the country's businessmen, there's something idiosyncratic to the nation's most indebted real estate company that is preventing CCP from going all berserk against it.
The group is believed to invite major scrutiny at the hands of the country's top regulators. However, CCP is cautiously trudging forward not to further destabilize already financially distressed companies across China. As per a Bloomberg report, any move to significantly dilute shareholders including Hui could undermine confidence in other financially stressed companies as well. The CCP is working upon a strategy to inject the capital from private investors and government linked funds into the company rather than usurping it all together.
It's an open secret that Jinping wants to tighten his grip over the country's all key sectors. The company's financial woes make it more vulnerable to fall prey to Jinping's campaign to rein in the moral hazard of the companies. Evergrande's shares have plummeted more than 36% this year to a four-year low, and its longer-dated offshore bonds have traded in the 60 cents range.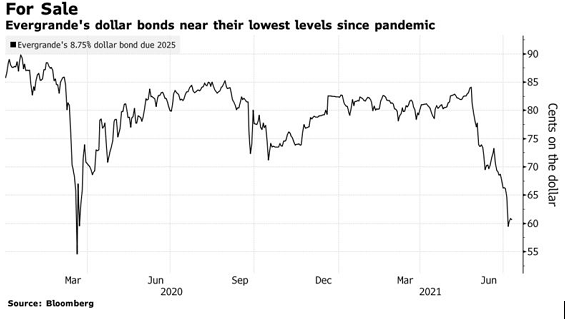 The developer's total liabilities, including short-term payables, skyrocketed to a record 1.95 trillion yuan last year. Several Evergrande units have fallen behind on commercial bill payments this year, exacerbating the plunging of the company's shares and bonds.
Owing to the financial doldrums the developer is going through, state banks have decided not to roll over the loans to the company. However, others have allowed Evergrande to extend portions of credit lines it has already tapped, partly due to concern that a large reduction in lending would risk destabilizing China's financial system. The special treatment being conferred to the developer, despite Jinping's business-subverting policies, indicates the administration's helplessness in dealing with the group with tough hands.
Read More: After destroying China's finance sector, Paranoid Jinping begins an unprecedented crackdown on EduTech sector
Not so long ago, Jinping embarked upon a parallel war against the tech giants like Alibaba and Tencent to keep them away from consolidating power and influence. Investors are already fleeing China's tech sector en masse. The levels of mistrust which Chinese tech giants have come to face in markets is causing them to register massive capital shrinkages. The crackdown appears to have direct backing from President Xi Jinping. He told lawmakers in March to build a balanced public education system that satisfied people's needs.
However, the way the Chinese regime is surprisingly dealing with the Evergrande group indicates that Jinping has finally realised his limitations in exerting his control over the market. The Chinese corporate sector is facing an unprecedented debt crisis and therefore, Jinping is forced to mend his ways to prevent the Chinese financial system from a dreading freefall.