As soon as the Afghanistan blunder started gaining criticism, Joe Biden turned to blame everyone else but himself. First, he blamed the Afghanistan government and then went ahead to blame the previous administration of Donald Trump. And anyone who understands Donald Trump knows he will not let such criticism slide. Former President Donald Trump unleashed a sustained attack on President Joe Biden on Saturday, calling the withdrawal of US forces from Afghanistan "the greatest foreign policy embarrassment" in US history, as per reports.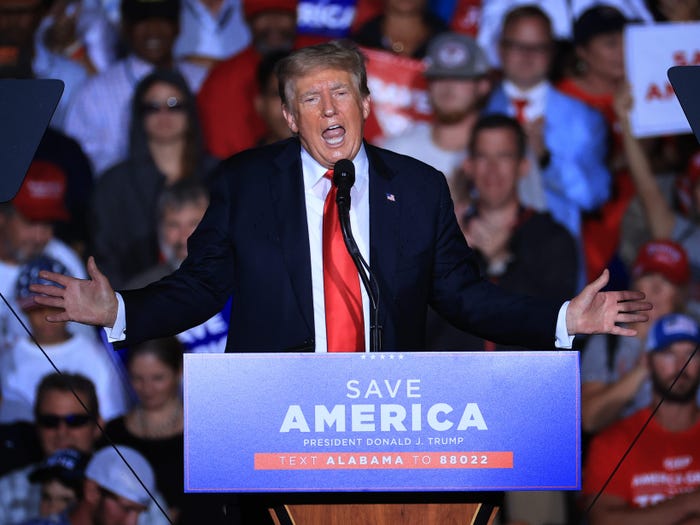 Trump has previously stated, "The Taliban no longer has fear or respect for America, or America's power." "When the Taliban puts their flag over America's embassy in Kabul, it will be a disgrace. This is a terrible failure due to ineptitude, weakness, and strategic incoherence." Biden's botched pull-out from Afghanistan is the most amazing display of utter stupidity by a nation's leader, possibly at any time, Trump said during a boisterous rally outside Cullman, Alabama, attended by his supporters.
Earlier In an interview with Fox News' Sean Hannity on Tuesday, Trump slammed President Joe Biden for the disaster unfolding in Afghanistan, since the weekend. According to Trump, Biden has embarrassed the United States more than any other president in history, surpassing fellow Democrat Jimmy Carter's 1979 Iran Hostage Crisis. He said that it was a terrible time for the country and that it is not just a military defeat or a psychological defeat, there has never been anything like what's happened here.
Read more: Trump rips into Biden and slams the US war lobby
While mentioning the extent of damage the US has received diplomatically, he did not forget to mention that if he was in power, the country would not have to deal with the humiliation. Trump said that he warned Taliban leader Mullah Abdul Ghani Baradar that if an American was killed or the insurgents encroached on unapproved territory, the US would retaliate tenfold. These statements can be very well understood as Trump responding to the attempt by the Biden administration and the Democrats to scapegoat the previous Trump administration.
On the other hand, Joe Biden said I am the President of the United States, and I am responsible for everything that happens in my country. I am grieved by the reality that the world now faces, but I believe that America's action was correct. The goal of our mission in Afghanistan was never to construct a country. Our sole concern was to avoid any attacks on our territory. As Afghans attempt to flee their home nation amid US army withdrawal, ten people have already been killed at Kabul airport.
At the rally, Trump blamed the issue on Biden's failure to implement the plan devised by his administration, and he decried the fact that American personnel and equipment were left behind while troops retreated. This, he maintained, is not a withdrawal. This was a complete and total surrender. Trump claimed that the Taliban, with whom he had negotiated, held him in high regard. He claimed that if he were still in office, the swift occupation of Afghanistan would not have occurred.