Joe Biden is not proving to be the kind of ally that China would have wanted in the White House. Joe Biden is more or less continuing the Trump-era policy of dealing with China as a threat. China still feels the United States, despite a change of guard, is treating it with a 'Cold War' mentality, and that is quite telling of how Joe Biden is not really fulfilling expectations in Beijing. While Xi Jinping tries to wrap his head around strategies to deal with Biden, China is running out of options fast, especially given the fact that the Democrat President's consecutive domestic and international debacles are leading to the American public losing faith in his leadership.
Joe Biden might not be as good for China as the CCP might have hoped for, but he is definitely not as bad for it as former President Donald Trump. Now, Donald Trump looks poised to run for the White House in 2024 again, and given Biden's current standing, he is set to lose to the Republican rather magnificently. That would spell doom for China. The CCP is simply not in a position to deal with another four years of Donald Trump as President.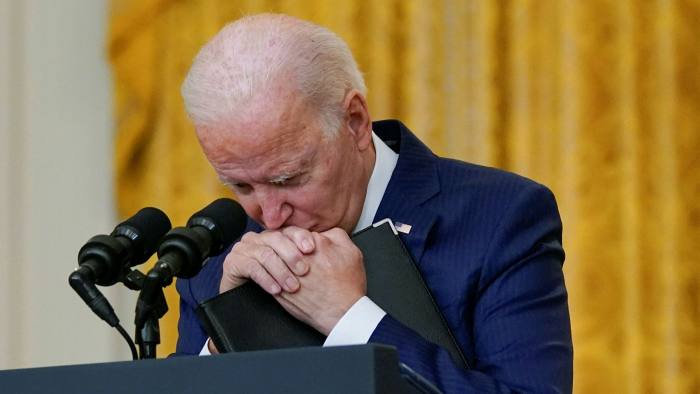 So, China has offered the Biden administration an olive branch under camouflage. The Chinese ambassador to the US has called for increasing official exchanges between the two nations, while also warning Washington not to treat China in the same way it dealt with the former Soviet Union, leading to the USSR's collapse.
Qin Gang, who took up the role of ambassador in late July, speaking at a virtual event, said, "We are willing to strengthen communication with the US between the departments of foreign affairs, economy, finance, law enforcement and the military, and rebuild dialogue mechanisms. This is to accurately understand each other's policy intentions, properly manage and handle differences in a constructive way."
According to the South China Morning Post, since his arrival in Washington, Qin has adopted a friendly tone in his public statements and at events, after months of posturing, tensions and accusations between the two giants. Apart from his initial meeting with US officials, there have been several signs of increased official communications between the US and China. Additionally, US climate envoy John Kerry arrived in China on Tuesday, marking his second visit to the country within Biden's first six months in office.
Read more: In about 15 months, the US under Biden will become a China dove and will say YES to everything Beijing says
On the agenda is climate change. China may even make new pledges after talks with visiting US climate envoy John Kerry. Now we all know just how desperately Joe Biden wants to be appear proactive at least on the Climate front. And China seems to be extending all help to the Biden administration in the same endeavour. In exchange, however, Beijing wants Washington to go soft on China's economy and military misadventures across the Indo Pacific. And Biden is likely to cave in.
Joe Biden has proven to be a disaster. In Afghanistan, Biden messed up big time, leading to the deaths of 13 serving US military men. The evacuation campaign out of Afghanistan has been anything but a success, and the people of America are horrified at the abject surrender which Biden made to the Taliban. Biden began August with an average approval rating of 51.5 per cent, down from 54 per cent at the start of May. Now, according to USA Today, after the botched-up withdrawal from Afghanistan, that has spiralled down further. Biden currently has an approval of not more than 41 per cent.
Just 37 per cent of voters say they would vote for Biden today, while 13 per cent of Democrats say they would vote for Trump if elections are held today. This means that Joe Biden really has lost the confidence of his own people. Therefore, Biden needs to double down on a liberal agenda to somehow try and put up a fight in 2024. And climate change figures prominently in that agenda. By 2024, Biden expects China to commit to some big climate change action points, which will help the incumbent president claim that he reigned in China's emissions and got Beijing to agree to climate change mitigation policies.
China is playing along because Biden's freefalling approval ratings have spooked it as well. Biden is way better for China than Donald Trump, and Beijing is doing all it can to prevent Trump from becoming President again. What China is demanding from the Biden administration, however, is for it to give up on the 'Cold War' mentality; a condition which silly, old and helpless Joe will most likely agree to. China has, therefore, provided Biden with a final opportunity to prove his worth.