China is spooked by Japan. The Chinese people, however, love Japan. According to a survey conducted between September and October of last year, 45.2 per cent of Chinese had a 'favourable' opinion of Japan. Since comparison data became available in 2005, this was the second-highest proportion. The most common reason cited for the positive attitude of Chinese people towards Japan was that the Japanese are 'polite' and they 'put emphasis on manners' with 'high cultural standards.' For a supremacist Chinese Communist Party (CCP), these numbers were hardly motivating. A significant share of the Chinese populace viewing Japan favourably simply runs contrary to the CCP's plans of stoking conflict in the East China Sea. 
So, the Chinese Communist Party has now manufactured a supposed "anti-Japan" sentiment in China. This is manufactured, which means the narrative of Japan-hating does not have many takers among the Chinese populace. However, to fulfil its demented agenda, the CCP needed an opening, and they have produced one now. Late in August, in the northeastern Chinese city of Dalian in Liaoning Province, a Japan-themed shopping, cultural and residential complex that opened less than in mid-August was ordered to suspend operations. Late in August, in the northeastern Chinese city of Dalian in Liaoning Province, a Japan-themed shopping, cultural and residential complex that opened in mid-August was ordered to suspend operations.
What led to the closure?
The CCP seems to have employed its bots and extremist supporters for waging an anti-Japan campaign on Chinese social media, especially on Weibo. Web-users were outraged that traditional Japanese goods were being promoted over Chinese products. The promotion of Japanese-made goods and companies in such an area appeared to be a sore point for many, who described the commercial complex as "an invasion of China by Japanese culture". 
今日も中国大連🇨🇳の
偽京都は人がいっぱい。

着物とか扇子とか間違ってるし。 pic.twitter.com/APq4V1tnZo

— 三木慎一郎 (@S10408978) August 29, 2021
According to the real estate developers behind the complex, Dalian Shuyuan Group, the municipal government instructed them to suspend operations on the night of August 30, citing concerns about the criticism expressed on the internet, as well as fears for crowds gathering in the area during the pandemic. A reopening date for 'Little Kyoto' has not been announced, leading to speculation that the project might never kick off in its full glory.
According to Nikkei Asia, Tang Little Kyoto is part of a sprawling 600,000-sq.-meter complex, which was built at a cost of 6 billion yuan ($925 million) and is scheduled to be complete in 2024.
Xi Jinping's Insecurity
Xi Jinping is an insecure little despot. And who is a despot? A despot is a ruler who holds absolute power, typically one who exercises it in a cruel and oppressive way. A despot is usually seen as a dictator. And in China, what the people suffer from is a Communist despot who is always insecure. The insecurity of CCP General Secretary Xi Jinping stems from the realisation that his regime is heavily disliked, and that he is himself seen as an oppressive leader who wants to remain in power for as long as he is alive.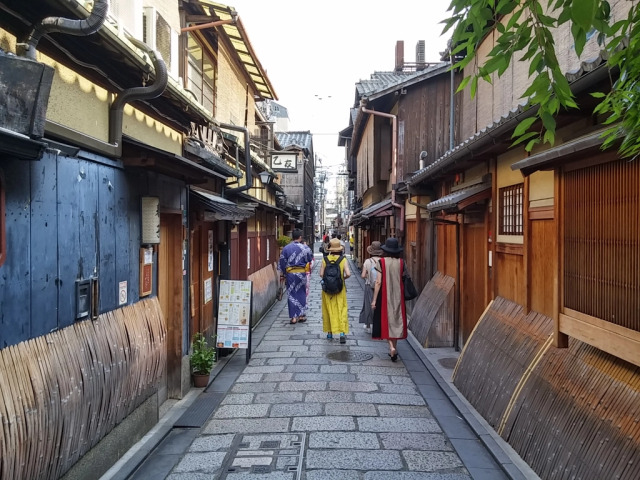 Jinping hates the fact that Chinese people admire Japan and its culture. Therefore, in order to counter the influence of Japanese culture in China, Jinping seems to have manufactured online outrage against the 'Little Kyoto' project, giving CCP authorities sufficient ground to close down the project as a whole. 
Is this a CCP-styled payback?
Japanese electronics giant Toshiba recently announced its departure from China after 30 years of its continued presence in the country. The company will cease production at its Dalian facility by the end of September, and the liquidation process will begin next month. Moreover, another Japanese company named Oki Electric Industry Company (OKI) is also preparing for executing its China-exit plans to shift its production to Thailand "as part of efforts to focus on competitive products amid a growing paperless trend."
The Toshiba facility which is set to be shut down is located in the same city as that of 'Little Kyoto'. With news of two major Japanese countries pulling out of China doing the rounds for some time now, Xi Jinping, with the closure of the Tang Little Kyoto project must have intended to send a warning to Japan and its companies. However, the warning does not seem to have had its desired effect. 
It is not really a trait of the Chinese people to hate Japanese culture. That an outburst of anger against Japan was recently seen on China's social media, just before two major Japanese companies announced their exit from the mainland is quite telling of how the CCP manufactured the entire anti-Tokyo campaign.