Social media is inundated with Chinese state-backed propaganda. While giants like Twitter, YouTube and Facebook are blocked in China, the communist nation continues to exploit these platforms to reach mass audiences.
While these platforms have always shied away from expurgating the CCP's (Chinese Communist Party) brazen propaganda, the overwhelming pressure from the human-rights watchers is now forcing them to yield. In an impressive move earlier this month, Twitter removed two big datasets mounted by the Chinese government to magnify its disinformation campaign.
Twitter's recent actions against Chinese propaganda:
Twitter Safety on December 2 informed that Twitter had taken down several datasets linked to state-backed propaganda operating from six nations namely Mexico, the People's Republic of China (PRC), Russia, Tanzania, Uganda, and Venezuela.
Also read: Twitter deleted the Nigerian President's tweet. The Nigerian President deleted Twitter
Twitter deleted 3465 accounts, of which 2158 accounts were related to the Chinese government. Twitter Safety had also tweeted a link, referring to the Australian Strategic Policy Institute's detailed analysis of Twitter's crackdown on Chinese propaganda. Twitter removed two datasets amplifying Chinese propaganda designed to deny accusations of forced labour, mass detention, surveillance, sterilisation, cultural erasure and alleged genocide in the region.
Dataset 1 included "Xinjiang Online" or the CNHU network, which consisted of 2046 accounts and 31,269 tweets.
Dataset 2 included "Changyu culture" or the CNCC network, which consisted of 112 accounts and 35,924 tweets.
Also read: T for Taliban, T for Twitter: Twitter suspends Amrullah Saleh's office's account but retains Taliban's
The detailed analysis by ASPI revealed that the CCP's regional governments, along with state-backed media and influencers, used their overwhelming presence on Twitter to drive their misinformation campaign. The ASPI in its report has also mentioned the strategies devised by these state-backed networks to reach as many audiences as possible across the world.
Strategies to amplify state propaganda:
Flooding the zone: These state-linked accounts generated negligible organic engagements on Twitter. However, the sheer volume of content shared was meant to bury the critical content on such platforms.
Amplifying through state-backed media and diplomats: In several cases, the propaganda content posted by these accounts was also re-tweeted by state media and Chinese diplomats. The ASPI mentioned that "48% of all re-tweets by the CNHU network were of CCP state media and diplomatic accounts."
Promotion of "testimonial" videos of Uyghurs: Both networks, especially the CNCC, shared videos of Uyghur Muslims expressing their happiness and denying the allegations of human rights violations in Xinjiang.
Multi-purpose spam accounts: Some accounts connected to these networks had also shared porn material in the past.
#StopXinjiangRumors: Both datasets predominantly featured the emblematic "#StopXinjiangRumors" hash-tag. The interviews between state-sponsored influencers and state media journalists were also shared. Also, the content was shared in several languages, including Chinese, to influence the Chinese-speaking diaspora as well as the international audience.
Interestingly, this anti-CCP crackdown emerged a mere days after Twitter's new CEO Parag Agrawal was made the company's new CEO. This also indicates that Twitter could pursue a tougher stance on state-backed propaganda under the new leadership.
Also Read: Kyle Griffin senior producer at MSNBC A Twitter Personality
A lot yet to be done:
While the move taken to delete thousands of China-linked propaganda accounts was certainly a welcome step, a lot is yet to be done. Chinese propagandists, disguising themselves as journalists and diplomats, continue to enjoy their overwhelming presence on Twitter. Banking on Twitter's ignorant attitude, Chinese abusive state media has grown even bolder over the past few years.
Also read: With the new IT laws firmly in place, India has turned Twitter into a punching bag for 1.4 billion people
Earlier this year, the Chinese government officials had posted a fake picture of an Australian soldier holding a knife to the throat of a child. The Australian Prime Minister Scott Morrison had then called this image "disgusting", but Twitter squarely refused to take down the tweet.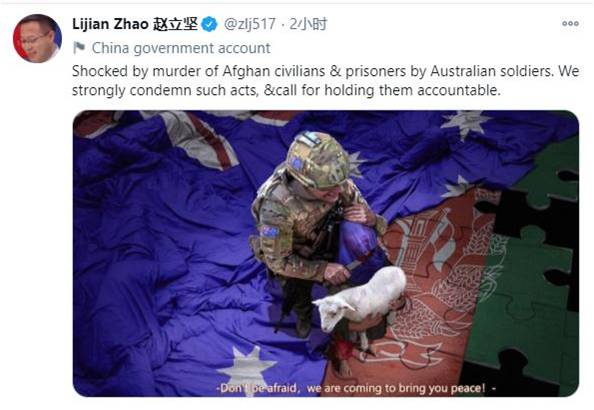 Twitter's decision to not expurgate this highly objectionable photo highlighted significant challenges that the social media giants face today. The Chinese government is an indispensable source of revenue for these giants. So, acting against China is hardly an easy job for Twitter, Facebook and Google. But Twitter's removal of thousands of China-linked accounts shows the trend is changing. With a waning economy and burgeoning political instability, China has lost its charm and sheen in the eyes of these social media giants.