India is reported to have instructed its State-owned energy companies to consider buying Russian oil assets. The development comes amidst the plans of Western companies to exit Russia and divest their stakes in Russian oil assets, and China's plans to fill the vacuum through hostile takeovers of the Russian energy companies.
India is therefore looking to retain the much-needed balance in the global energy sector, while the Western world shamelessly abdicates its responsibility.
As per Reuters, two sources said that the Union government has asked State-run energy companies of buying European oil major BP's stake in the Russian energy firm Rosneft.
The sources said, "BP has announced that it is abandoning its 19.75% stake in Rosneft. The oil ministry [Ministry of Petroleum and Natural Gas] last week conveyed its intent to ONGC Videsh Limited (OVL), Indian Oil Corporation, Bharat Petro Resources Limited (BPRL), Hindustan Petroleum's subsidiary Prize Petroleum Limited, Oil India Limited, and GAIL (India) Limited."
The Ministry has also asked OVL, the overseas investment arm of the State-run Oil and Natural Gas Corporation (ONGC), to consider buying a 30% stake held by Exxon Mobile Corp, in the Sakhalin 1 project located in the Russian Far East.
Exxon is the operator of the project but it has hinted at making an exit. OVL already holds a 20% stake in the project and could now try to tap into the vacuum that Exxon's exit will create.
Indian State-owned firms Oil India, IOC, and BPRL, the exploration arm of State refiner Bharat Petroleum Corporation, already hold stakes in several Russian oil assets. They could now be eying discounted rates in Russian oil asset purchases, due to likely "distress sales" by Moscow amidst disinvestment by Western energy ventures and relentless sanctions.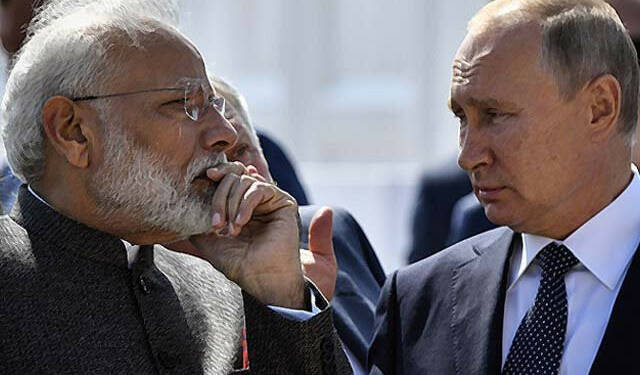 Countering hostile Chinese takeover
India knows that China is looking to usurp Russian energy companies. It is already eyeing big Russian energy firms and assets like gas giant Gazprom and the Sakhalin-2 liquefied natural gas venture.
Three Chinese state-run energy companies are reportedly looking to buy Shell's 27.5% stake in the Sakhalin-2 liquefied natural gas venture.
What we are looking at is a repeat of the events that followed the 2014 Crimea annexation by Russia. At that time, the US and the EU had announced some tough sanctions against Russia and had limited their business dealings with Moscow. Chinese investors were more than happy to fill the vacuum and had expressed interest in Russian oil and gas assets.
In 2017, a closely-held Chinese oil company even purchased a $9 billion minority stake in Rosneft PJSC. China, therefore, managed to get more deeply involved in the Russian energy industry. And after the Ukraine crisis, it is eyeing a total takeover of Russian oil and gas by purchasing some major assets. India however will not let China get a free run in the matter.
How India is balancing the global energy sector
Now, India's increasing stake in the Russian energy industry won't really be actuated by mere self-interest.
If India ends up buying oil assets in the Russian Far East, it would be a matter of much-needed relief for the Japanese too. Japan doesn't want China to start knocking on its doors by expanding its presence in Russia's Far East. Yet, Japan cannot buy Russian assets in the region because it is a US ally and cannot simply abandon Washington in its actions against Moscow.
Read more: China could end up controlling Japan's gas and it's all Japan's mistake
Even for Europe, India's involvement in Russian energy is a major relief. If China takes over the Russian oil and gas industry, it will start coercing the EU by threatening to switch off Russian gas supplies to the Continent.
Read more: Emboldened by Russia, Algeria plans to halt gas supplies to Europe
However, India's control of the Russian energy sector is bound to help retain some degree of balance and undisputed flow in energy supplies.
New Delhi is therefore defusing Beijing's plans of a hostile takeover in Russia. And this is good news for the entire world.