The European Union has come out with a new proposal- a 9 billion euro ($9.5 billion) loan to Ukraine in order to keep the war-torn country that has been ravaged by Russian forces. This will apparently help post-war reconstruction efforts in Ukraine.
However, the EU loan program is dead on arrival. Ukraine has already lost the war, which is now its last phase with Russian forces coming really close to achieving their main objectives. So, what will Ukraine do with European money when it would already have been forced to make territorial concessions.
So, what does a loan by the EU mean? Make no mistake, it is not even an aid funding but a loan that the EU wants to give to Ukraine. So, the EU could as well be financially obligating Ukraine in the name of sponsoring reconstruction efforts.
EU's short-term relief proposal
European Commission President Ursula von der Leyen said, "We are proposing to top up the significant short-term relief provided until now, with a new exceptional macro-financial assistance for Ukraine of up to 9 billion euros in 2022."
She added, "But we also need to think about the day after for the wider reconstruction effort. The EU would and should not be the only one contributing to this effort."
The Commission President also said, "That is why we propose a reconstruction platform as part of this plan jointly led by Ukraine and the Commission and bringing together the EU Member States, other bilateral or international donors, international financial institutions, and other like-minded partners."
Read more: After securing Donbas and Mariupol, Russia begins cutting Ukraine from the Black Sea
Saving face?
Make no mistake, the entire Western world, and the EU in particular has been facing a lot of backlash since the beginning of the Russia-Ukraine war. It has been criticised for its indecisiveness during the war and for its reluctance in doing more for Ukraine.
Shortly after the war broke out, Ukrainian President Volodymyr Zelenskyy condemned European Union member states for refusing Ukraine's application to join the bloc.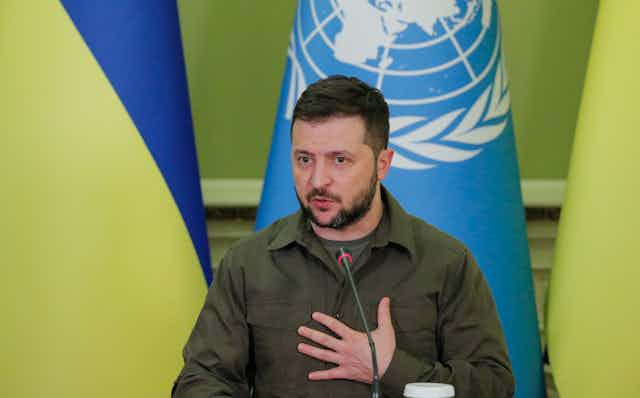 He had said, "The European Union must do more." Zelensky had added, "It must do more for us, for Ukraine. And for itself."
Ukraine had applied for EU membership immediately after an invasion into the country was launched by Russia. The EU had ample time to take a call on fast-tracking Ukraine's application or at least giving an assurance that it will ultimately be made an EU member.
In fact, Ukraine was even given the advice to give up on EU membership and wait for a new, wider bloc to be formed for EU integration.
And then, EU countries are the ones effectively financing Russia's war in Ukraine. Despite the invasion, they keep on buying Russian oil and gas, effectively ensuring that Moscow never gets burdened under the pressure of tough sanctions.
So, the EU now wants to somehow retain its influence in Ukraine. This is why it is telling Zelensky that see we are ready to throw in a few billion dollars, which can help build back Ukraine after the devastating war.
On its part, the EU understands that the Ukrainian economy has been wrecked totally by the ongoing war. So, it can buy Kyiv's loyalty by sending in a few billion dollars at a time when no one else would want to help Ukraine.
Read more: European Union comes up with a clever plan (to bypass its own sanctions on Russia)
Too little, too late
Now, the EU may think that they can throw a few billion dollars at Ukraine and get away with its gross indifference towards Kyiv's plight. But that's not happening.
It is quite discernible that the EU's efforts have arrived way too late. And they don't really make a difference. Ukraine has already lost a key city like Mariupol. Meanwhile, Russia is also preparing a grand offensive to create a land route cutting through Ukraine to connect the Russian mainland and the strategically located enclave of Transnistria. The move will limit Ukraine to a land-locked country.
Ukraine is bound to face some major cartographic changes and it will also be forced to make territorial concessions. EU is thus making a pointless manoeuvre even as Ukraine prepares for a comprehensive defeat in the ongoing war.
ALSO WATCH: