A corrupt leader comes back into the political scene of a nation just when it was becoming an inspiration for other countries on issues of foreign policy, economy and conflict.
Former president of South Africa Jacob Zuma has alleged that current president Cyril Ramaphosa has bought his position as president of the ruling party, African National Congress (ANC), a month before the official party meeting which is going to be held in December. In the meeting, ANC members are going to decide whether to endorse Ramaphosa's bid for a second term and let him continue as the party's head. Jacob Zuma said, "There were clear allegations made, that Cyril Ramaphosa, who is contesting for the presidency, used a lot of money to buy his position as president of the ANC."
Jacob Zuma, who also served as the vice president of South Africa in 1999, was indicted in 2005 for accepting bribes from a French arms company known as Thales following which the then president Thabo Mbeki removed him from the government. Later in 2007, Jacob Zuma fought and took the reins of ANC from Mbeki. He became the president of South Africa in 2009. During his presidency, he continued his politics of corruption, mismanagement and unaccountability.
In 2016, he was convicted for the embezzlement of $15 million in public funds. Zuma's rule led to what has been described as "state capture" during which businessmen and influential people influenced decisions and policies of the government.
In 2018, Jacob Zuma was forced to resign by the ANC. In 2021, Zuma was found guilty for contempt of court after refusing to appear before an anti-corruption commission. He was sentenced for fifteen months in jail following which his supporters started rioting, committing arson and looting. South Africa saw the worst scenes of political tensions as 300 people lost their lives in the violence; the nation last witnessed such uproar in 1994 in the backdrop of anti-apartheid movement.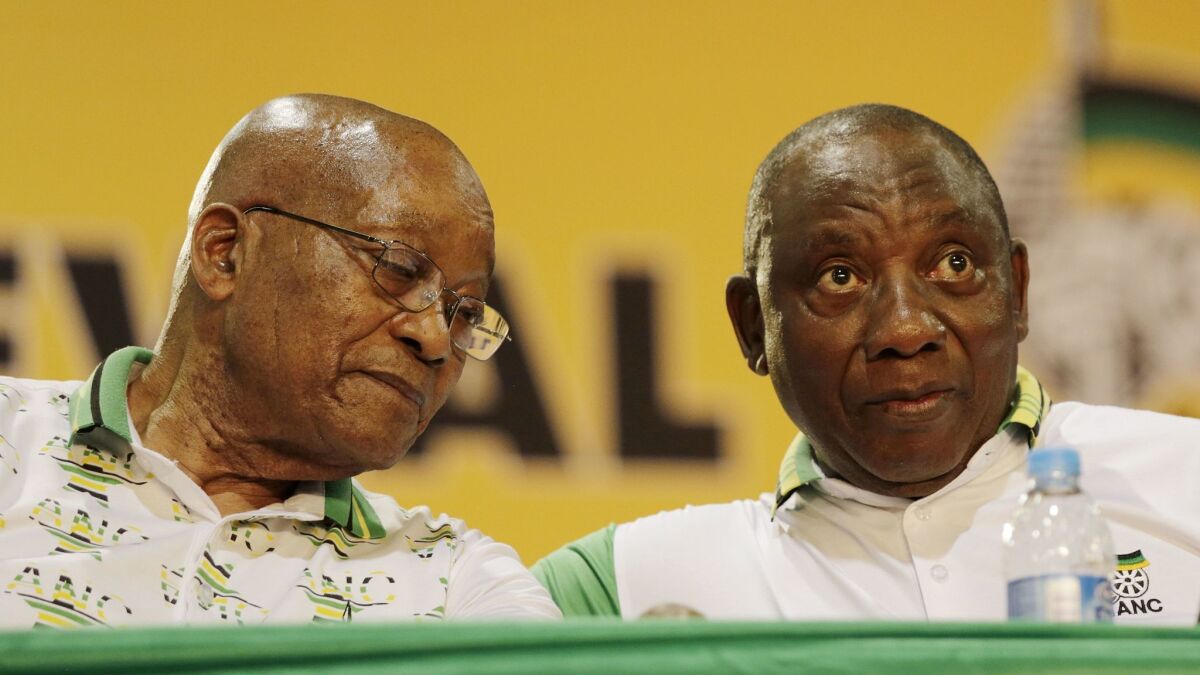 Read more: In a final blow to the west, South Africa to host Naval exercise with Russia & China
The current president Ramaphosa, who came to power after Jacob Zuma stepped down, led a campaign in which he pledged to annihilate corruption in South Africa. His electoral success led to the initiation of criminal prosecution of Zuma. After being released from jail, Jacob Zuma announced that he will return to politics if the ANC members nominate him as party's president and will contest elections against Ramaphosa, who too is involved in corruption scandals. The political scene in South Africa is taking an interesting turn, with vendetta politics at the helm.
Now we at TFI explained that South Africa under Ramaphosa has been taking stands and positions in global affairs which have angered the West.
During the vote on a UN resolution calling on Russia to withdraw its forces from Ukraine, South Africa abstained. During a visit to the US, Ramaphosa criticised Biden for introducing a bill in Congress called "Russian Malicious Activities Act" which targeted those African countries which have good relations with Russia. Ramaphosa said the bill disregards the sovereignty of those nations.  Similarly, South Africa permitted a Russian oligarch named Alexey Mordashov to dock his yacht in its harbour. Mordashov, who is close to Putin has been sanctioned by the US and Europe accusing him of benefitting from the war in Ukraine. However, South Africa stated that since Mordashov is only facing sanctions from the US and Europe, therefore it is not legally obligated to deny him permission. South Africa also agitated the West by announcing to carry out a naval exercise with China and Russia in addition to its plan to allocate a part of the funds, which are going to be provided by the US, France and Germany, in its electric vehicle industry.
Now, coming back to Jacob Zuma, it is apparent that he is going to be challenging his main political opponent in the next presidential elections of South Africa. It must be noted that his intentions seem identical to that of the West which too wants to see the demise of Ramaphosa's regime which has been taking decisions and implementing policies that don't abide by their neo-colonial agenda.
The purpose of Jacob Zuma is simply to gain power and undo everything that Ramaphosa has been doing, which in the longer run will benefit the west. Will Zuma go so blind in his vengeance, that he will compromise the national interest of South Africa to the gain of the west? is a question on every South African's mind. We don't know that, but we do know that the West wants a government in South Africa which will follow its orders and not question its motive.
Read more: TFI Global's prediction comes true within 24 hours: Burkina Faso is now a Russian ally