A Cuban-Canadian rights group is now formally requesting that Ottawa slap sanctions on officials in Cuba for Havana's repression of demonstrators at a July 2021, protest.
Canada requested to slap sanctions
Democratic Spaces, founded and directed by Michael Lima, a Cuban-Canadian human-rights activist and researcher, is filing a request with the Department of Global Affairs' sanctions policy and operations co-ordination division.
Mr. Lima said, "Levels of repression in Cuba today are the highest in two decades"
This application is also supported by Cuba Decide, a group founded by Cuban activist Rosa Maria Paya that seeks a plebiscite on the future of Cuba, a single-party authoritarian state.
Crisis in Cuba
On July 11, 2021, thousands of Cubans had taken to the streets in one of the largest nationwide demonstrations against the government in decades. These peaceful protests were a response to longstanding restrictions on rights, food and medicine scarcity, and the government's response to the Covid-19 pandemic.
Read More: For the first time in 9 months, the Caribbean region is taking Russia's side
However, the Cuban government's response to the peaceful protests caused serious human rights violations. A report released by Human Rights Watch documents how the Cuban government's repression and its apparent unwillingness to address the underlying problems that drove Cubans to the streets generated a human rights crisis that dramatically increased the number of people leaving the country as per a report.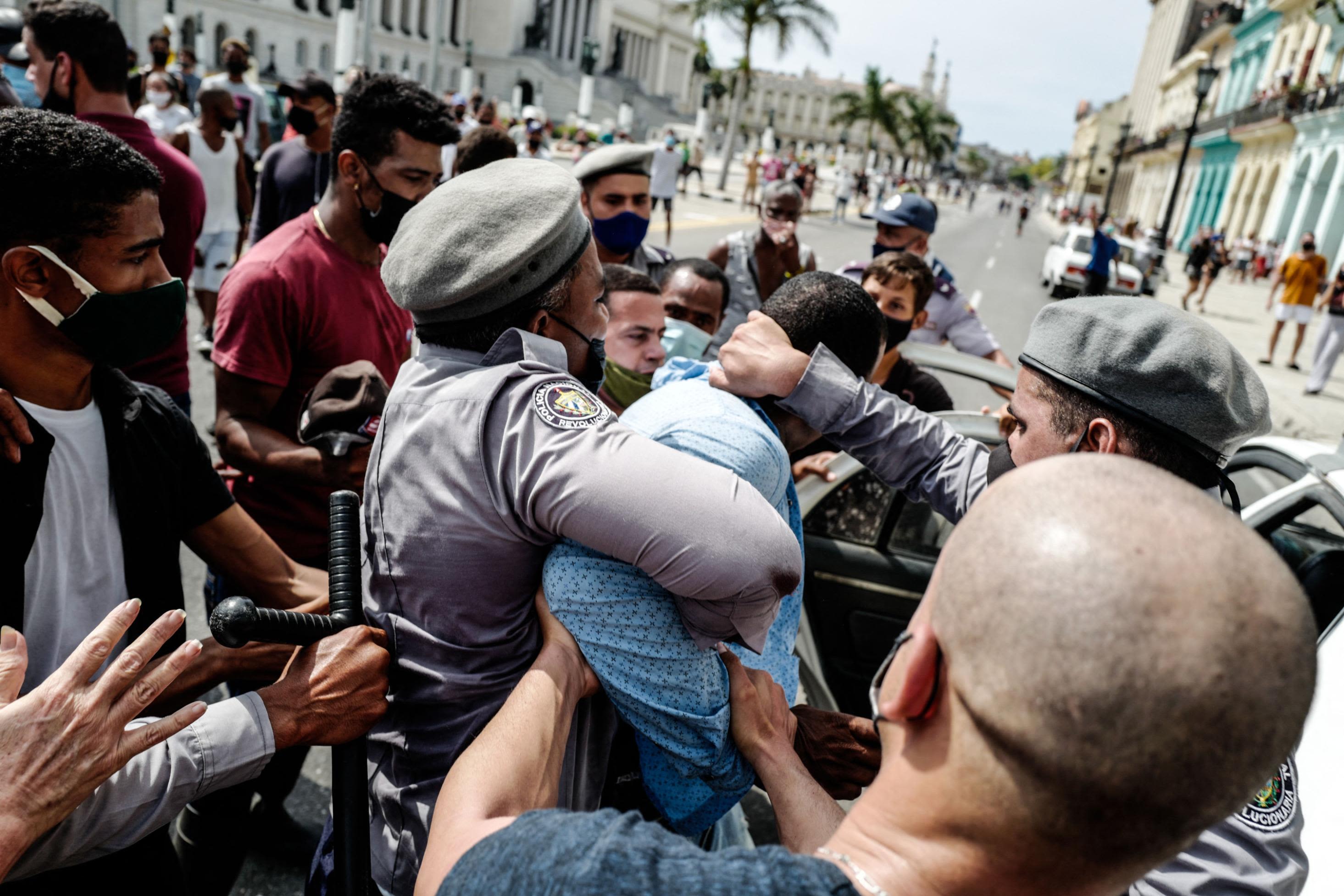 The government's reaction was "brutal, systematic repression and censorship," according to Human Rights Watch, an international rights group.
The protests that rocked dozens of cities, from Havana to Santiago, called for President Miguel Diaz-Canel to step down which marked the "biggest anti-government demonstrations" on the Communist-run island in decades.
Will Canada slap sanctions?
Canada, so far, has refrained from imposing any sanctions on Cuba, although Prime Minister Justin Trudeau criticized Havana in July, 2021. While criticizing Havana, he said, Canada was "deeply concerned by the violent crackdown on protests by the Cuban regime" and condemned "the arrests and repression by the authorities of peaceful demonstrators."
Canada did not follow up with sanctions, however. Further, Foreign Affairs Minister Mélanie Joly's office offered no explanation as to why Canada has not imposed sanctions on Cuban officials according to a report.
Let's mention here that Trudeau once praised former Cuban authoritarian leader Fidel Castro as "remarkable" and a "larger than life leader who served his people,"
Despite deep concerns over the violent crackdown on peaceful protests in Cuba, Trudeau so far has refused to impose any sanction which is in stark contrast to when Canada has followed tough criticism of other authoritarian governments with sanctions in the past.
Mr Lima and Sarah Teich, one of the lawyers assisting with the application have pointed out that Canada has imposed "numerous targeted sanctions on Chinese, Russian, Iranian and Venezuelan officials in response to their commission of gross human rights violations" in those respective countries.
Trudeau following Biden's footsteps?
It is to be noted here On May 16, 2022, the Biden administration announced the easing of tough sanctions imposed on Cuba by former President Donald Trump and relaxed certain limited Cuban sanctions and other regulatory changes to expand communication, travel, and commerce between the United States and Cuba.
On the other hand, Canada has long been one of Cuba's closest western allies, maintaining ties after its 1959 revolution. Thus, it seems unlikely that Canada is willing to break relations with Cuba or impose any sanctions this time.
Read More: Grenada takes a U-turn, now it welcomes Russians open-heartedly
Further, Canada and Cuba have a well-established and significant commercial and investment relationship. In fact, Canada is Cuba's second-largest source of direct investment with significant Canadian investment in mining, power, oil and gas, and some investments in renewable energy, agriculture/heavy equipment and tourism.
There were also reports that the Canadian company, Sherritt International Corp. will invest in Cuba to increase the production of nickel and cobalt, essential minerals in the production of more powerful and long-lasting batteries. The growing electric car market requires better batteries compared to the existing ones and both nickel and cobalt are among their components.
Canada and Cuba have both benefitted from good business and increasing trade and investments. Thus, only time will tell, if Canada will positively respond to the Cuban-Canadian rights group's request. While Canada maintains that it strongly advocates for freedom of expression, freedom of movement, and the right to peaceful assembly free from intimidation, throughout the world, it is ironic that it continues to, in a way, facilitate the authoritarian rule in Cuba.