Kukke Subramanya Temple, Karnataka – Overview
Shri Subramanya Temple of kukke is known for Lord Kartikeya, in this grand temple Kartikeya, the son of Lord Shiva and Mother Parvati, is worshiped as Subramanya Devta. The construction of Kukke Sri Subramanya Temple is believed to be around 5000 years old.
The Kukke Sri Subramanya Temple is located in the Subramanya village of Kannada district in the south of Karnataka state. This Temple, situated on the banks of the Kumar Dhara River. This Temple is especially known for Nag Dosh and Nag Puja. Apart from being a religious place, it is also known for its exotic beauty, lake, mountains and blossoming nature.
History of this Temple
Lord Subramanya is also known as Shanmukh Devta. Once Lord Ganesha along with his brother came here and killed other demons including the demon king Tadka. Impressed by Kartikeya's victory, Devraj Indra handed over his daughter to him.
It is also believed that Vasuki, a devotee of Lord Shiva, performed his penance, and pleased with which lord Shiva assured protection from Garud and went to this place. It is also believed that lord Shiva reside in the temple along with Vasuki. Devotees who visit the temple believe that having a darshan of the Lord will keep them away from evil and snake blemish.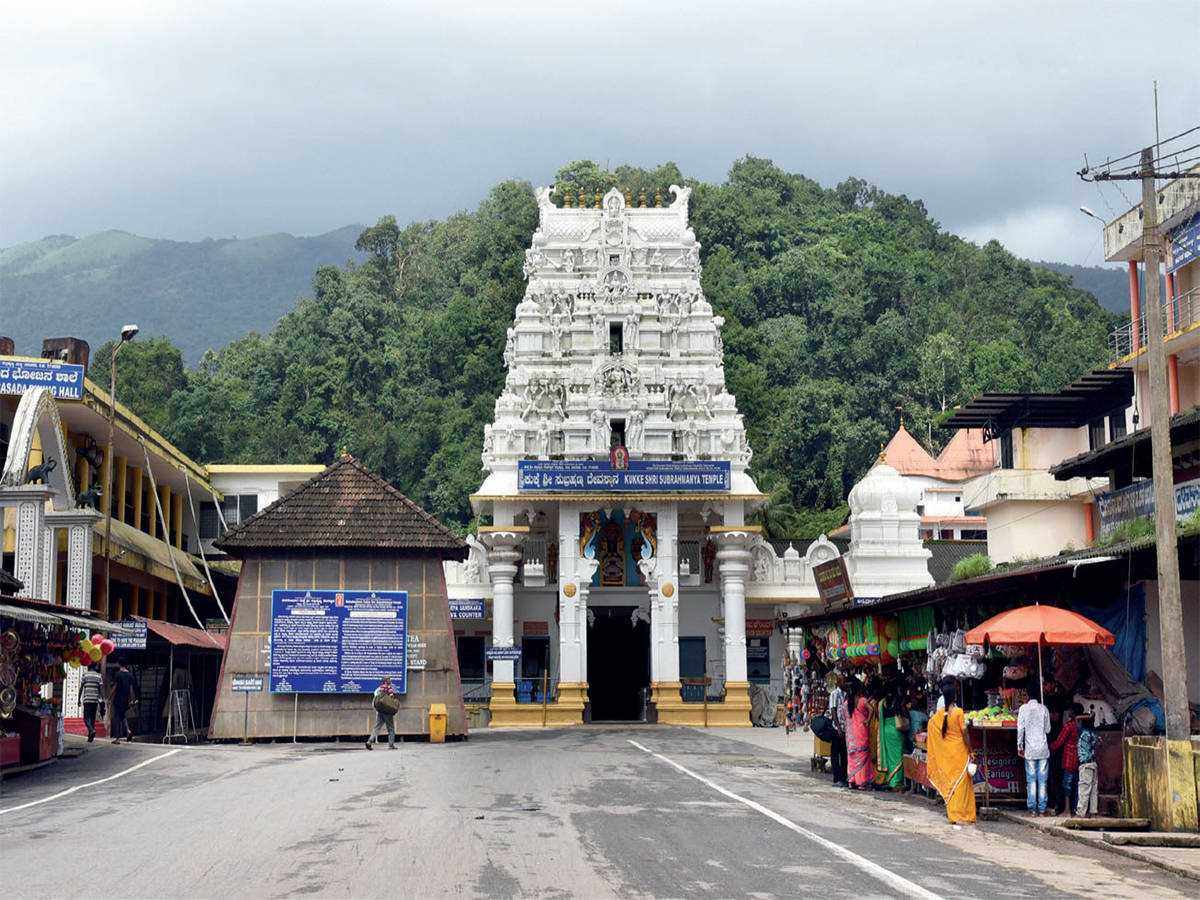 Best time to visit this Temple
If you want to visit Kukke Subramanya Temple as a tourist, then the best time is in winters. Because Kukke Sri Subramanya Temple is a very attractive place with lush green trees and plants. You will feel amazing bliss in this Temple in this season. Monsoon is also a great time to visit this temple if you can't visit it in the winter season.
Also Read: Palani Arulmigu Sri Dhandayuthapani Temple Timings, History and Travel Guide 
Tourist attractions near Kukke Subramanya Temple
Sringeri Math
The main attraction of the Kukke Sri Subramanya Temple is the Sringeri Matha, which is a religious place as well as a tourist destination, and is situated on the banks of the Tunga River. The Sringeri Math was established during the 8th century by Jagat Guru Adi Shankaracharya. Due to its purity and integrity, this Shringeri Math is a beautiful tourist destination.
Kumar Hills
Kumar hills, also known as Pushpagiri hills, located in Subramanya village of Kannada district of Karnataka in South India. This mountain is at number 6 among the highest peaks of Karnataka. This place is the best place for trekking as it is also a huge peak wildlife sanctuary. This is a very attractive and picturesque place. Trekkers face many challenges on the way here, due to these challenges, this place attracts trekkers.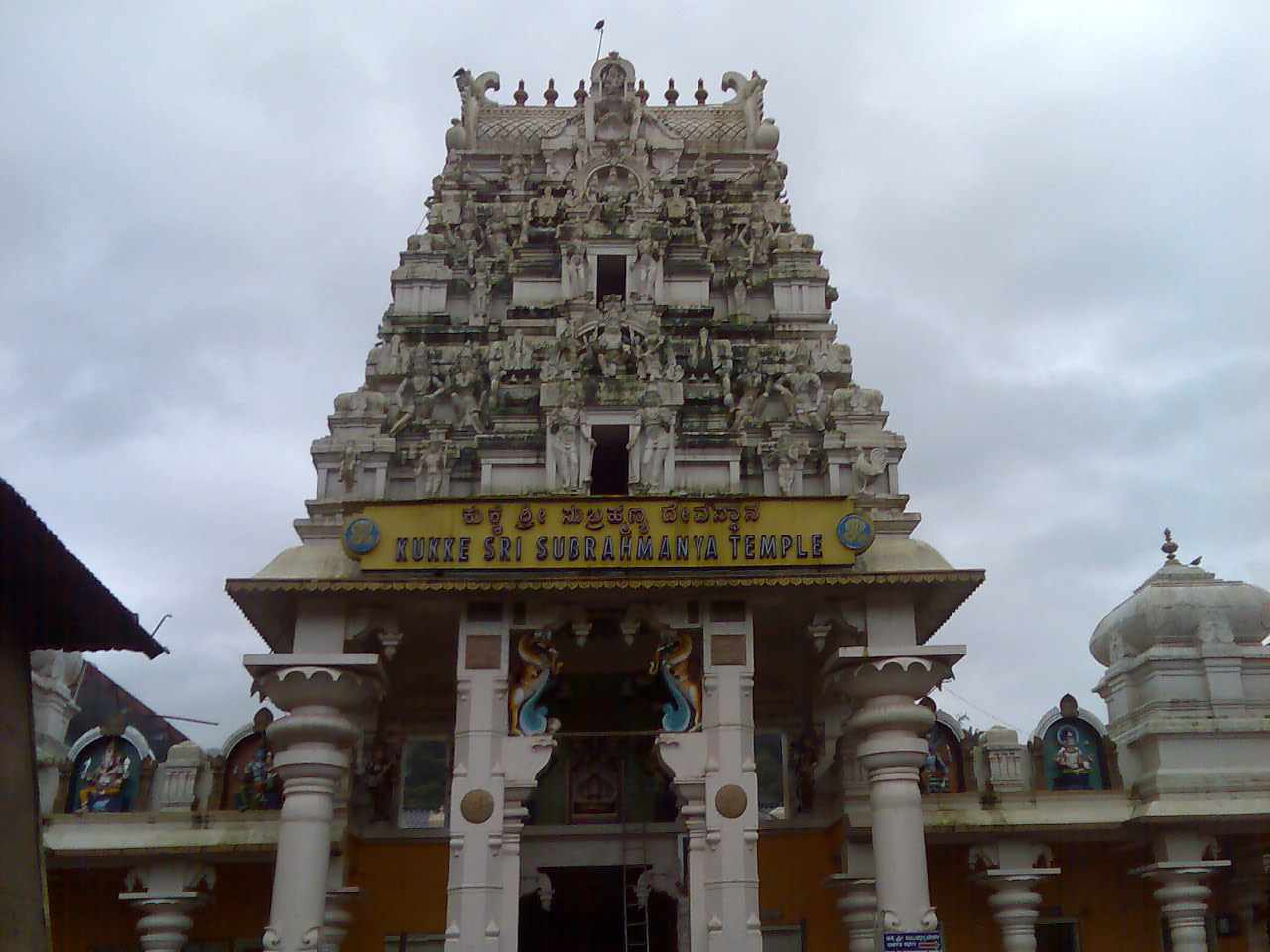 Also Read: Simhachalam Temple Visakhapatnam Timings, History, Travel Guide and How to reach
Bilavada Cave
Biladvada Cave falls on the way to Kukke Shri Subramanya Temple. It is believed that the snake god Vasuki took shelter of Lord Subramanya in this cave to escape the wrath of Lord Garuda.
Mullayanagiri Peak
Mullayanagiri peak is situated near Chikmagalur town and this peak is situated at an altitude of about 1930 m above sea level. The biggest reason tourists are attracted to Mount Mullayanagiri is the trekking that takes place in the region. This place is also known for Coffee farming.
Also Read: Ammapalli Temple, Hyderabad: History, travel guide and how to reach
How to reach this Kukke Subramanya Temple
By Air- The nearest airport to Sree Subramanya Temple kukke is Mangalore International Airport. Which is located at a distance of about 84 km from this Temple. From the airport, you can take a bus, car or taxi as the local means of transport here.
By Train- Subramanya Railway Station is the nearest railway station to the temple. Which is 7 kilometers away from the city. It is on the Mangalore and Bangalore railway route. From here with the help of local means you will reach the temple.
By Road- Sri Subramanya Temple is well connected to the nearby major cities through roadways. You can go to the temple by bus, taxi or your own private means.
Subscribe our TFI Dharma YouTube channel to watch Devotional videos because we are here to serve Sanatana Dhrama: TFIDHARMA