Jens Stoltenberg tenure: If even failure has to take a lesson, then NATO's Secretary General, Jens Stoltenberg will be the ideal teacher. This man, who unfortunately leads one of the biggest military alliances in the world, is the epitome of someone who makes blunders and keeps repeating them. No, it is not an exaggeration. Ever since he took the position of NATO's head, the diplomatic failures and catastrophic military aggressions of the West have intensified. But after a very long time, finally we have some good news.
It is a sigh of relief for the world in general and Russia in particular, given the fact that he is gone.
After a newspaper suggested a further extension was in the works, an alliance spokeswoman confirmed that NATO Secretary-General Jens Stoltenberg's term will conclude as scheduled in October. Oana Lungescu said on 11th February that Stoltenberg's term has been extended three times for a total of nearly nine years. Stoltenberg's term expires in October of this year, and he has no intention of asking for any extension of his mandate. Prior to this, Welt am Sonntag claimed that tenure of Jens Stoltenberg would be renewed as NATO worked to maintain stability throughout the Ukrainian conflict. The tenure of Jens Stoltenberg was extended in 2017.
Prior to leading NATO, he served as the prime minister of Norway from 2000 to 2001 and again from 2005 to 2013. He has also served as the minister of finance and energy. Alliance members, according to Welt, intended to give Jens Stoltenberg the chance to preside over the group's 75th-anniversary summit in Washington in April 2024. In addition, it stated that he would be qualified to succeed David Malpass as president of the World Bank when he retires at about the same time.
Nobody has been chosen to follow Jens Stoltenberg, although Welt noted that Pedro Sanchez, the prime minister of Spain, and Ben Wallace, the secretary of defence of the United Kingdom, are two of the front-runners. Now, Jens Stoltenberg has been the Secretary-General from 2014 till the time his term ends in October this year. Jens Stoltenberg tenure has been marked by unprecedented and unforeseeable incidents in the fluctuating realm of geopolitics. In fact, Stoltenberg's very appointment took place soon after the annexation of Crimea by Russia.
Read more: Bulgaria stands against EU's attack on Russian nuclear energy
As Jens Stoltenberg took the leadership role in one of the biggest military alliances in the world, he faced countless challenges over the years. Jens Stoltenberg tenure is marked by various unpredictable developments. But as Stoltenberg's tenure comes to an end, it's time to look at his achievement or should we say are there any?
Jens Stoltenberg had a horrible track record. He is infamous for not upholding his pledges and backstabbing NATO's partners. He did this with Israel.
Tenure of Jens Stoltenberg: Falsehoods, betrayals and misdeeds
In June 2016, Jens Stoltenberg stated that since Israel had been an active alliance partner for 20 years and there was a need to intensify collaboration with the country. However, in 2018, Stoltenberg betrayed Israel. He said that NATO would not defend Jerusalem from an Iranian attack. NATO, according to Stoltenberg, is not involved in regional wars or efforts to bring about peace in the Middle East.
It must be noted that Jens Stoltenberg very cunningly reversed his policy on Jerusalem. Apart from turning his back on Israel, Stoltenberg also had a troubled relationship with former US president Donald Trump. While Trump often emphasised the failures of NATO, including criticising member states' low contribution to the bloc's budget despite being mandated to donate 2% of their GDP to the bloc's defence budget, Stoltenberg misconstrued Trump's claim as an "attack" on NATO.
On one occasion, Jens Stoltenberg even insinuated that Trump was trying to divide NATO when all Trump was trying to do is reform the internal structures and overall organisation of the incompetent military alliance. While Stoltenberg's rocky relationship with Trump continued, he kept repeating the same blunders which cost the allies of NATO their sovereignty and territorial integrity.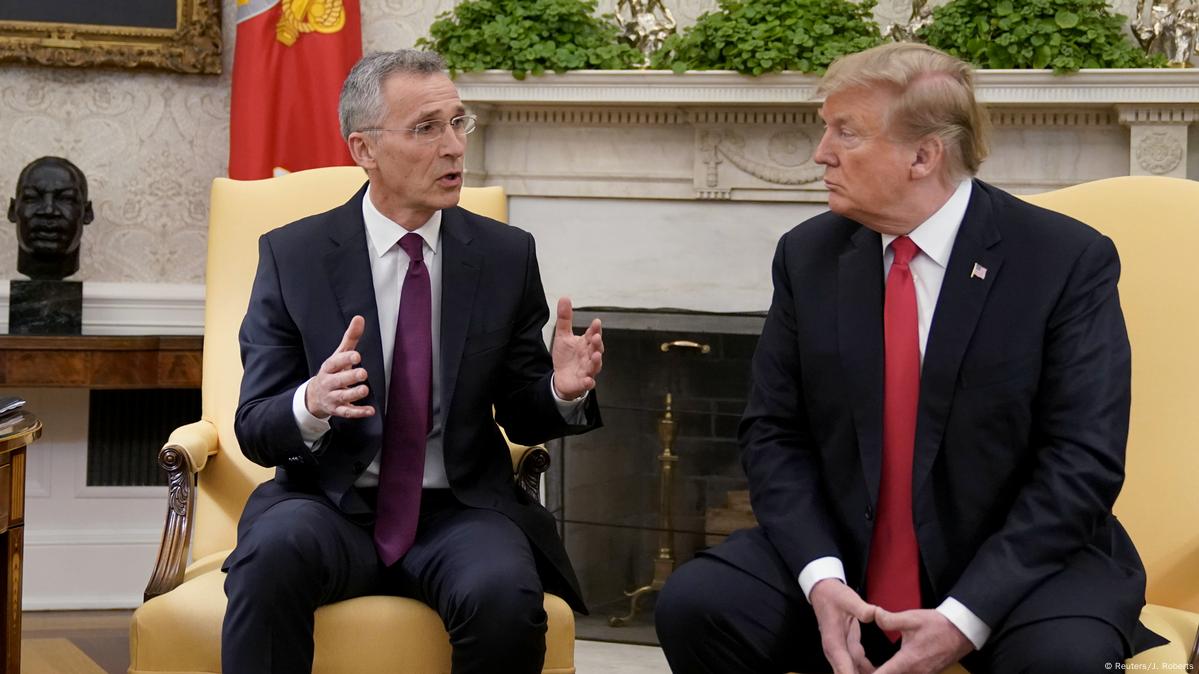 This happened with Georgia. In 2008 at the Bucharest Summit 2008, NATO stated that Georgia along with its neighbour, Ukraine, would become members of the bloc. In the same year, Georgia was annexed by Russia. Eleven years later in 2019, the NATO Secretary General, who was on a visit to Tbilisi, reiterated a decade-old promise of the bloc. He emphasised that Georgia would certainly become a member of NATO in future. Despite knowing fully well that his statement will be taken as a threat by Russia and can further damage the political, diplomatic and economic interests of Georgia, Jens Stoltenberg put the security and stability of Georgia in jeopardy.
The same thing happened with Ukraine, which is now under persistent military onslaughts of Moscow. Had Stoltenberg remained neutral and not provoked Russia, Georgia and Ukraine would not have been overrun by Russia. Since Putin is not an advocate of military aggression, there were many opportunities for Ukraine and Georgia to peacefully resolve their diplomatic and military disputes with Russia.
But Jens Stoltenberg didn't learn anything from his past mistakes. His incompetent policies kept exposing the shallow promises and nefarious intentions of NATO. The same NATO which rallies around the world always calling for peace and stability around the entire world created a ruckus for Ukraine and Georgia.
Ironically, NATO didn't see any violation of the sovereignty and territorial integrity of Syria when Turkey invaded some of its territories and perpetrated war crimes in the war-torn nation. In fact, in 2019, Jens Stoltenberg defended Turkey's military aggression in Syria.
This was extremely outrageous on the part of NATO's secretary general, given the fact that even its member states, including France and Belgium, condemned Ankara's atrocious actions in Syria. It was extremely unfortunate that despite repeated pleas from the bloc's member countries, Stoltenberg was adamant in his controversial stance on Erdogan's brutalities in Damascus. He further also accused Iran, without any evidence, that it supported various terrorist organisations and alleged that Tehran was actively involved in perpetrating violence and provocations in the international arena.
Whereas, all Iran, which has been the target of many diplomatic and military attacks by the US, was endeavouring to accomplish is the strengthening of its security and development of its nuclear programme. Tehran knows that in order to survive and thrive in this unfairly hostile geopolitical order, which is dominated by the US and Europe, access to nuclear weapons is indispensable.
Read More: Turkey begins digging the grave of NATO
However, the hypocritical Jens Stoltenberg, who dances on the whims and wishes of Washington and Brussels, believes that Tehran's access to nuclear arms can disrupt the international order. Despite the US being the most cunning player on the global stage, given its invasion of Iraq and crimes against humanity in Vietnam, the NATO Secretary General is under the illusion that Iran is the one which is a threat.
This speaks volumes about the lack of practicality and incapability of Stoltenberg. But the most popular episodes of geopolitics for which Jens Stoltenberg will be remembered are his policy, stance and actions on the Russo-Ukraine war.
It is difficult to determine where to start here. But the entire intensification of conflict between Kyiv and Moscow started in November 2021. Vladimir Putin gently emphasised that an expansion of NATO's presence in Ukraine, especially the deployment of any long-range missiles capable of striking Russia, would be taken as a direct threat by Moscow. Putin also warned that NATO's missile defence systems, which it planned to deploy in Ukraine, can be converted into launchers of high-capacity cruise missiles.
The Russian president repeatedly called on Jens Stoltenberg to prevent any further expansion of NATO eastward and stop the deployment of weapons systems in close vicinity to Moscow's territory. However, Stoltenberg who earlier misconstrued the assertions of Donald Trump did the same with Vladimir Putin. The Secretary-General brushed aside the genuine fears of Russia as baseless threats and in turn indirectly threatened Putin. He said, "Russia has no veto, Russia has no say, and Russia has no right to establish a sphere of influence to try to control their neighbours."
Read more: NATO is pushing another Russian neighbour against it
When instead it was NATO which was trying to increase its hegemony in the region. No wonder, Jens Stoltenberg received and in fact kept receiving recurrent unpredictable slaps from Putin.
In addition to Zelensky, Sanna Marin and Ulf Kristersson too were the victims of Stoltenberg's ineffectiveness. NATO's head has been unsuccessful in persuading Turkey in granting accession of membership to Helsinki and Stockholm. Stoltenberg's diplomatic and foreign policies crumble in face of the unreasonable demands of Erdogan.
Therefore, these various developments which have tremendous repercussions on the geopolitical order perfectly demonstrate why Stoltenberg's departure from NATO is in the best interest of the military bloc. The US and Europe now have a chance to appoint someone as the head of NATO who is sensitive, cautious and sincere regarding the fluctuating circumstances of geopolitics. With the exit of Jens Stoltenberg, a broken NATO looks at a better future.