Japan's Prime Minister Yoshihide Suga has decided to take the Chinese military threat head-on. Following a series of decisions to bolster military preparedness against China, the Suga government has now approved a ninth consecutive hike in Japan's defence budget. Japan's government has given its go-ahead to a record US$51.7 billion military budget. Suga government enjoys a solid majority in the Japanese Parliament, and therefore the defence budget is bound to get through.
The biggest highlight of Tokyo's latest defence budget is the focus on missiles. The Suga government is looking to introduce standoff missiles that can target enemy ships from outside their firing range, in a clear attempt to combat the Chinese threat. Japan is also looking to buy longer-range missiles and considering arming and training its military forces to strike distant land targets in Asia including China.
Japan's new long-range missiles will therefore give the QUAD comprising Australia, Japan, the US and India, a clear edge over China, in case of any hostilities. With these missiles, Japan can target Chinese bases in the Communist nation's prosperous Southeast region. Also, Japan will also be able to target the PLA Navy at will in the East China Sea region with the new standoff missiles.
Japan's Defence Minister Nobuo Kishi made it clear that the introduction of new standoff missiles is aimed at China. He said that Japan has to "respond" to increasing Chinese naval activity around Japan's southwestern islands. Kishi was actually referring to Chinese intrusions into Japanese waters near the Senkaku Islands.
It will take five years to develop the long-range standoff missiles. But once developed, Japan will be able to tilt the balance in QUAD's favour within the Western Pacific region. Japan will, of course, be able to deter any Chinese misadventure by pointing its long-range missiles against Chinese bases with longer-range surface missiles.
But even more importantly, Japan will be able to keep the Chinese People's Liberation Army Navy (PLAN) in check. Consider this- the new standoff 'anti-ship' missiles will ensure that Chinese ships cannot roam around freely in the East China Sea. These missiles will ensure that Japan can target warships at longer distances around its Southwestern Okinawa Islands, without even coming into the firing range of Chinese vessels.
The Okinawa Islands look over the strategically valuable Miyako Strait- a 250 km wide passage of water between Japan's Miyako Islands and the Okinawa Islands. If Beijing has to threaten American/ Australian interests in the Pacific Islands region, then Chinese warships will have to pass through the Miyako Strait.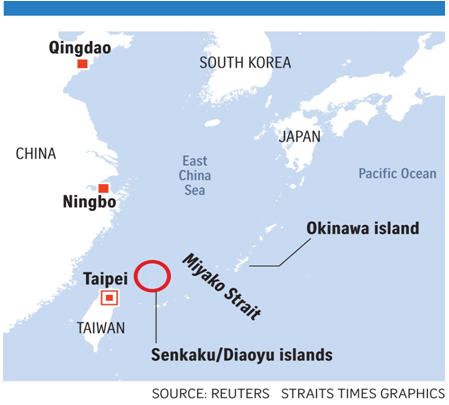 The Miyako Strait is the only opening in the First Island Chain, which extends from Japan to Indonesia and surrounds China. But once Japan develops its standoff missiles, any Chinese ships passing through the Miyako Strait would become highly susceptible to a Japanese assault.
With Japanese standoff missiles breathing down heavily on its neck, the PLA Navy would find it very difficult to breach the First Island Chain. And in the event of a QUAD-China conflict, China will not be able to target American military interests such as Guam in the Pacific Islands region.
Suga is, therefore, giving the QUAD a big edge over China, with the new long-range missiles capable of pounding the paper Dragon.