Since US President Joe Biden has taken to office in the White House, he has been hell-bent on changing the nature of Quad. He is pushing the Quad to deviate its focus from its primary objective of taking on Chinese belligerence and animosity, to focus on softer issues like Climate Change and a vaccination drive. But Japan is not relenting on its position and objective of Quad and is taking the US head-on.
As soon as Joe Biden came to power in the United States, he made attempts to undermine his predecessor Donald Trump's Indo-Pacific vision. Japan had conceptualised the "Free and Open Indo-Pacific (FOIP)" concept but it was Trump who championed it by isolating China- the main threat to a rules-based order in the region.
Read More- After getting humiliated in Quad Foreign Ministers meet and G-7, Biden realised that staying soft on China is not an option
Right from the word go, Biden was doing things to show that he was not comfortable in continuing the Trump era's practice of promoting anti-China activity. Initially, the 78-year-old tried to ditch anti-China "Indo-Pacific" terminology in favour of a pro-China, "Asia-Pacific" language.
This was quite significant as the Indo-Pacific is a geopolitical concept that was developed in response to Chinese belligerence and expansionism. By trying to replace the usage of "Indo-Pacific" with "Asia-Pacific", Biden was refusing to continue Trump's policy of directly addressing the Chinese threat.
Biden tried his best to force a pro-China objective on Quad. But massive resistance from other Quad members especially Japan made Biden relent and give in to the pressure of the US allies. The US Secretary of State Antony Blinken emphasised a "free and open Indo-Pacific region" as the central cause of Quad.
Thus, Biden understands that he cannot change Quad's stance on China, therefore, he is now working on changing the objective. But Quad, which has become a formidable force to deter China, will be watered down if its objectives deviate. There are a lot of institutions and engagements between the four countries to cater to the needs of Climate change and vaccination.
Moreover, the four countries have already effectively dealt with the Pandemic and have a strong vaccination drive on course. Quad, as an institution, need not be burdened with these soft-issues that are already being tackled effectively.
Therefore, Japan is staunchly reminding the Biden administration of why the Quad is needed. Ahead of the Quad meeting between the member states Japanese Prime Minister Suga and the Indian Prime Minister had a telephonic conversation. The conversation was 40 minutes long and Suga expressed real concerns about China.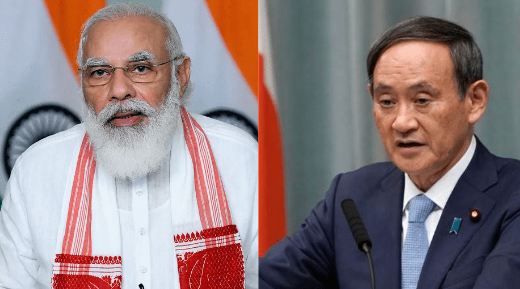 Suga particularly, made it a point to inform the Indian Prime Minister of various dangers posed by China to the Indo-Pacific region. He said, "expressed serious concerns regarding unilateral attempts to change the status quo in the East and South China Sea, China's Coast Guard Law and the situation in Hong Kong and the Xinjiang Uyghur Autonomous Region (XUAR)."
In his first one month of power, Biden did many things for China and came charging against India and Japan. Biden tried to do two things- undermine the Quad and dilute the vision of a Free and Open Indo Pacific (FOIP). Both these formats were inherently anti-China and so there was a clear pro-China bent in Biden's administration.
Later, Biden started to go berserk. He tried to downplay the issue of Uyghur concentration camps located in China-occupied Xinjiang. To make it worse, Biden was also ready to abandon Japan as China stepped up aggression in the East China Sea with the objective of taking over the Senkaku Islands.
Read More- South Korea is planning to join the anti-China Quad to put pressure on Biden to follow Trump's policy
Biden failed comprehensively as India and Japan reined in the US President within the confines of Trump's vision for the Indo pacific and Quad. The signal from India and Japan was clear- China is the biggest threat and that centrality of the Indo-Pacific has to be upheld. Soon, he realised that Japan and India are too strong to be bullied and Biden had to relent.
Thus, Biden's latest attempt to undermine Quad's primary objective by changing the narrative itself will be again met with stern resistance and Japan is leading the charge. Japan has, for the longest time, been the most reliable US ally in the Asia Pacific geographical stretch. However, Suga's charge is a testament to the fact that Japan is not going to let China go scot-free.