Since US President Joe Biden has assumed office, Chinese rhetoric and incursions against Taiwan have increased. The aggression reached its point when China tried to stop an unofficial visit of a group of French parliamentarians to Taiwan. It turned into a scathing war of words, but France did not relent and it is a very clear signal to China that on Taiwan and other issues France is not to be stifled with.
In a war of words over Beijing's pressure on French lawmakers, the French foreign ministry summoned Chinese ambassador Lu Shaye for repeatedly insulting a researcher. Lu reportedly wrote French Senator Alain Richard to discourage him and other members of the Senate's France-Taiwan Friendship Group from visiting Taiwan earlier this month. According to the letter, Richard should avoid any official communication with Taiwanese authorities, as this might send the wrong message to Taiwan's pro-independence powers.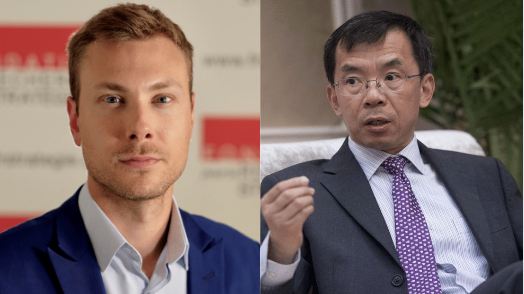 Although the tone of the letter reportedly irritated Richard. Antoine Bondaz, a fellow at the Foundation for Strategic Research in Paris, criticised Lu in a tweet for interfering in France's democratic system. Bondaz stressed that lawmakers are free to meet with whomever they choose.
Read More: Taiwan begins a brutal crackdown on China-funded companies operating on its own soil
The Chinese embassy responded by claiming that Lu was stopping other countries from interfering in China's internal affairs. It also started referring to Bondaz as a "little thug," a "crazed hyena" and an "ideological troll" with an "anti-Chinese" stance in a series of tweets beginning Friday (March 19).
The embassy also confirmed that "lamb-like" Chinese diplomats are no longer needed. Beijing's "wolf warrior" strategy, it said, is important to protect Beijing's international reputation from "wild dogs" from other countries.
Foreign Minister of France, Jean-Yves Le Drian called the Chinese embassy's remarks "unacceptable" in a tweet on Monday. He said the Chinese ambassador has been summoned and that the foreign ministry will "firmly reiterate the post" to him.
Meanwhile, Agnes von der Muhl, a spokeswoman for the French foreign ministry, said in a statement that the Chinese embassy must "strictly follow" diplomatic laws. She also protested Beijing's decision to blacklist many European officials, including French member of the European Parliament Raphael Glucksmann, on behalf of the ministry.
The people involved and the war of words exchanged between the two sides has made one thing clear. The issue had the capacity to become a full-blown diplomatic incident and could have quickly gotten out of hand, but France has stood its ground. This shows that even if it comes to taking on China, France will stand its ground, especially on the Taiwan issue.
Moreover, this also displays the leadership ambition of France, in the European Union and abroad. By taking on China's wolf warrior diplomacy, France had sent a resounding signal to Beijing, Berlin and Washington. France through this incident has proven that it is ready and waiting for the moment to try to grab a leadership position in the EU and should the US let slip in its commitment to Taipei, Macron will not hesitate to take on the paper dragon.
Read More: 'Any country that considers Taiwan a free nation will be dealt with', China issues a threat to the whole world
France has been increasingly confrontational towards the Chinese policies, defending its interests and Jinping understands the position of power French President Emmanuel Macron has ascended to.
During the negotiation of the EU investment deal with China, Xi had called President Macron personally to convince him to get through the deal, reports, however, emerged that Macron gave him an earful on Chinese actions in Xinjiang.
This dispute regarding a visit to Taiwan also emboldens France's ambition in the Indo-Pacific and is great news for Taipei which has seen a regular incursion by the PLA Air force after the USA dumbed-down its support for Taiwan. France, though its actions, has made it known that it is just waiting in the wings.