Iran is losing its mind over the growing bonhomie between Azerbaijan – which is its northern neighbour, and Israel – which is its sworn enemy. Iran is already on the backfoot. Israel has made no secret of the fact that if Iran were to near the threshold of achieving a nuclear bomb, it would strike the Shi'ite nation with all the force at its command. The Shi'ite nation is an existential threat to Israel and Jews, and as such, Tel Aviv seeks to neutralise Tehran. For doing so, Israel needs an alliance and friends in the region. Many might not have noticed, but Israel is trying to strategically encircle Iran. For achieving the same, Israel is reaching out to Jordan, Sudan, Azerbaijan, and Oman.
Israel's alliance with Azerbaijan is of immediate concern to Iran. Azerbaijan has repeatedly expressed dissatisfaction with Iran's support for some Islamist groups in the country, which Tehran has sought to use as leverage over Baku as well as to offset what it fears to be Baku's influence over the large ethnic Azerbaijani minority living in Iran – which Tehran sees as secessionists. In such a backdrop, for quite some time now, especially after the Nagorno Karabakh conflict of last year, ties between Tel Aviv and Baku have been steadily growing stronger, much to Tehran's dismay.
What is Iran Saying Now?
Iranian officials, military commanders, and media from across the political spectrum have ramped up an unprecedented war of words against Iran's north-western neighbour -Azerbaijan, warning against Israel's increasing presence in the South Caucasus country. According to the Middle East Eye, on Friday, Iranian ground forces launched one of their largest military drills in recent years in a region bordering Azerbaijan. Moreover, Iran has resorted to threatening Azerbaijan, and no less than Supreme Leader Ali Khamenei is warning Baku of dire consequences.
On Sunday, Ayatollah Ali Khamenei condemned Azerbaijan's military collaborations with Israel. He said, "Those who have the illusion that they can provide security [to themselves] by being dependent on others would soon be slapped," while adding, "In any country, a direct or indirect meddling of foreign forces on the pretext of providing security, [helping with] war and peace would have a disastrous outcome."
Brigadier General Kiumars Heydari, commander of the army's ground forces, told local media that Iran had become more alert about its north-western borders due to the increasing military collaboration between Israel and Azerbaijan. He said, "An uninvited and disruptive security element has come to this region, and that's the illegitimate Zionist regime."
Iran's foreign minister, Hossein Amir-Abdollahian said, "we do not tolerate the active presence of the Zionist regime in Azerbaijan against Iran's security."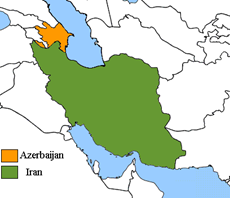 Iran's media, especially publications that are associated with the IRGC have gone overboard trying to depict Azerbaijan as a hostile nation, despite the fact that Tehran cannot afford to completely antagonise Baku. What really terrifies Iran is the possibility of Israel using Azerbaijan's territory to launch drone strikes against the Shi'ite nation's assets and top military leaders. Iran fears that Azerbaijan could serve as a base for Israeli drone strikes against Iran in the way the United States killed Qasem Soleimani by using bases in the Gulf.
Israel-Azerbaijan Ties
On its part, Israel has expressed a desire to help Azerbaijan rebuild its border areas with Iran. Interestingly, it has also asked Azerbaijan to use the Israeli tactic of building "kibbutzim" or "settlements" in the area, indicating that this was the way Israel was created. Azerbaijan is currently the largest supplier of energy to Israel. The volume of bilateral trade between the two countries reached $287.8 million in the first five months of 2021. In January, Azerbaijan expressed its willingness to involve Israel in the restoration of the country's newly liberated territories.
Baku has acquired a large number of Israeli-made drones in recent decades, becoming a pioneering drone power. According to the Jerusalem Post, Azerbaijan frequently shows off Israeli-made drones and boasts of their effectiveness, and the intended target of such muscle-flexing is obviously Iran.
Read more: The Middle East is gearing up for the most decisive war between Israel and Iran
The Israel Defense Forces (IDF) have put forward a request to the Israeli government asking for a major defence budget hike whose sole intention would be to neutralise Iran's capability to produce nuclear weapons. Israel specialises in covert, clandestine and special operations. Not just in the Middle East, such operations are considered around the world as the best. MOSSAD – the Jewish nation's intelligence agency is credited to be a lethal force from which the country's enemies cannot escape. Iran knows first-hand how Israel can really derail its nuclear programme if it so wishes.
With a partner like Azerbaijan, which shares a physical northern border with Iran, Israel can strike the Shi'ite nation's assets and interests whenever it deems fit. It is precisely for this reason that Iran has been having panic attacks of late.