Beijing Winter Olympics will go down in history as the moment of reckoning for Xi Jinping's murderous CCP regime. And how does the authoritarian regime go down? Businesses and sponsors realise that people will punish them for associating with Beijing.
Beijing Winter Olympics sponsors are all set to record heavy losses. Why? Well, no one is watching the Beijing Winter Olympics.  
Beijing Winter Olympics registers record low viewership for its Opening Ceremony
Why do sponsors pump money into international sporting events? So that they come into the limelight when sports enthusiasts watch it on their TV sets and mobile phones all over the world, right? But if gaining limelight was the goal, the sponsors are in for a huge shock.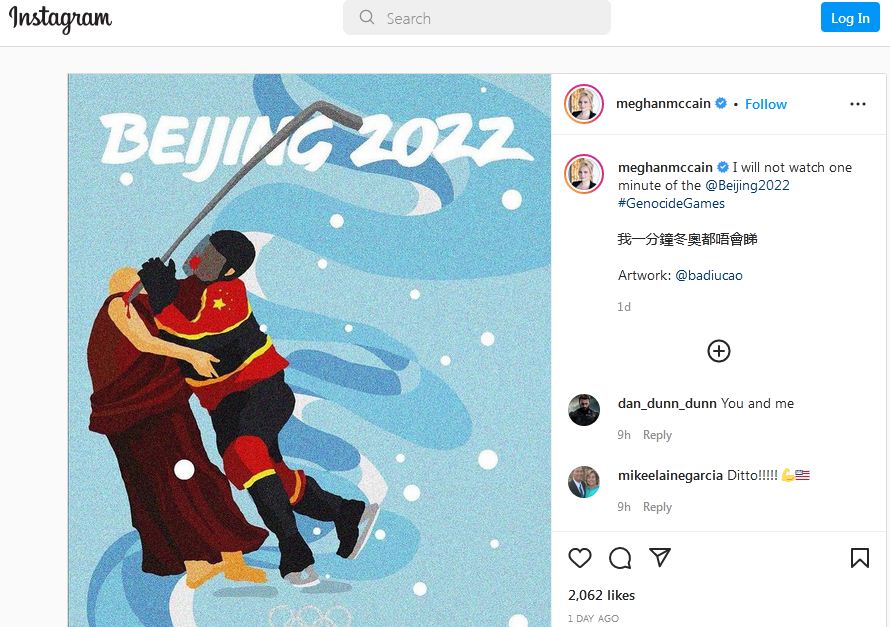 People are not watching the Beijing Winter Olympics. It was a record low for the Opening Ceremony in the US. Viewership for the Opening Ceremony on Friday averaged just 16 million beating the previous low of 20.1 million for the 1988 edition in Calgary and this is a huge decline of 43 per cent as against the 2018 Games in South Korea.
Read more: How Winter Olympics could turn Beijing into a ghost city
Beijing Winter Olympics facing a worldwide boycott campaign
Governments enforced only a diplomatic boycott, and they couldn't stop businesses from sponsoring the Games either. But people across the world are looking to boycott the Beijing Winter Olympics. 
There is a palpable lot of anger on social media. Meghan McCain, for example, said, "I will not watch one minute of the @Beijing2022," adding the hashtag "#GenocideGames."
She shared an image designed by Chinese artist badiucao that shows an ice hockey player in the Chinese flag with blood on his stick and mask while knocking over a Tibetan monk.
But the trend goes beyond the United States of America. In neighbouring Canada, 47 per cent of the 1,000 respondents in a survey said that they will make a conscious effort to refrain from watching the Beijing Winter Olympics. The adverse sentiment has gone up since December 2021. 
Meanwhile, social media is full of adverse sentiment against the Beijing Winter Olympics. #GenocideGames is trending on Twitter with posts like the image of an athlete on the Chinese flag shooting a blindfolded Uyghur. 
Don't watch. Don't support. #GenocideGames pic.twitter.com/PYu4MHuzLZ

— Kaveh Shahrooz کاوه شهروز (@kshahrooz) February 3, 2022
And #NoBeijing2022 has been trending on social media since August last year. The '#NoBeijing2022' website states, "at least two million Uyghur, Kazakh and Uzbek Muslims" are undergoing "torture, rape, and political re-education". It also states, "80% of Tibetan children – as young as 4 – are forced away from their parents and housed in China's colonial boarding schools, cut off from their families they face intense political indoctrination". And it also mentions Chinese bullying of Taiwan and aggression "in the South China Sea and India-Tibet border."
Chinese propaganda to burn remaining viewership
If there were people who were going to watch the Beijing Winter Olympics, Chinese propaganda during the Opening Ceremony is bound to drive them away. 
Read more: One difference between the 2008 and 2022 Beijing Olympics that is making Jinping super-jittery
There was a lot of toxic propaganda on display. The ceremony ended with the use of cross country skier Dinigeer Yilamujiang as one of the cauldron lighters. The Chinese State media proudly says that Yilamujiang has an Uyghur heritage only after repeated killing raping and torturing millions of Uyghurs.
 China used the Opening Ceremony as a platform for its toxic political agenda. And if this wasn't enough, International Olympic Committee (IOC) President Thomas Bach's speech should do the trick. There was so much praising and China and "Chinese friends" that his speech surprisingly sounded more like an address to a CCP gathering. 
If someone was still going to watch the Games, the Chinese political propaganda and Bach's speech should do the trick. But as the Winter Olympics viewership takes a hit, it is the sponsors who will have to suffer. This sends across a loud and clear message- those who sponsor China will have to face the wrath of China haters all around the world.