NYT has suddenly gone overdrive. It is writing story after story to bash Tucker Carlson. And while it may seem like a usual liberal media story, there is a lot more to it. It shows that the liberal media is badly cash-strapped and therefore it is looking for a new target in Carlson.
NYT goes crazy with Tucker Carlson's reporting
When it comes to feature stories or reports on any individual, what a media house normally does is publish one or a maximum of two stories. And when it comes to writing about a journalist, you do not expect a news network or a publication to write more than one or two stories.
However, NYT is literally going overboard with Tucker Carlson. On April 30, it published three reports about the popular Fox News journalist. The three reports, of course, carry condescending liberal agenda against Tucker Carlson. They keep deriding him and try to project him as some sort of a xenophobic racist.
Read more: Fox's Doocy destroys Jen Psaki like a legend and reduces her to a mumbling mindless dullard
One of the reports stated, "Last April, Mr. Carlson set off yet another uproar, borrowing from a racist conspiracy theory known as "the great replacement" to argue that Democrats were deliberately importing "more obedient voters from the third world" to "replace" the current electorate and keep themselves in power. But a Times analysis of 1,150 episodes of his show found that it was far from the first time Mr. Carlson had done so."
However, the three reports go beyond simply condemning and outraging against Carlson. You see some kind of an attempt to portray Carlson as an important enemy of the left-liberal world. One of the NYT reports is titled, "How Tucker Carlson Reshaped Fox News — and Became Trump's Heir."
This is clear messaging on NYT's part. By describing Carlson as "Trump's heir", NYT is stating that Carlson is the main conservative voice in the US now and he is the one who needs to be bashed. One of the reports, "What to Know About Tucker Carlson's Rise," traces the very career of Carlson which shows how much importance NYT is giving to Carlson.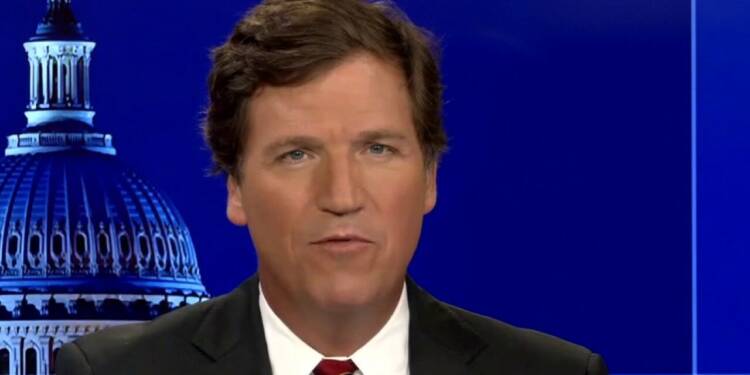 Why is NYT getting obsessed with Carlson?
So, why is NYT getting obsessed with Carlson? Well, to put it simply, NYT and all other liberal media houses need an enemy to target. They need a cash cow.
After Trump lost the 2020 Presidential polls, most liberal media houses have witnessed a sharp drop in their viewership ratings. Low viewership ratings translate into fewer sponsors and lesser money. When Trump was in power, the liberal media had found a cash cow in the then US President.
Trump used to engage in bitter tirades with the liberal media, and back then the liberal media got an opportunity to manufacture controversies out of thin air. This is what made Trump a great asset of sorts for the liberal mainstream media.
And then, the liberal mainstream media also had the opportunity of spreading fake news and making baseless allegations of xenophobia and racism against Trump. When you start spreading panic, like the liberal mainstream media did during the Black Lives Matter (BLM) movement and the US Capitol protests last year, you are able to get a liberal audience to watch your show and read your editorials.
Today, the American liberals don't have any reason to panic, nor do they have any particular reason to follow the liberal media. Trump himself isn't an existing threat to the liberal establishment in the US and therefore at least till 2024, the media cannot keep making money by abusing him.
Why Tucker Carlson?
Anyhow, the show must go on and the American liberal media needs a new 'enemy' to redirect its paranoia and spread fear all over again.
This is why the US liberal media seems to be targeting Carlson. But why Carlson? Well, Carlson is no politician, but still, he has become the face of American conservatism. He is the one who is exposing Biden's toxic left-liberal agenda and this is why conservatives in the US adore him.
Tucker Carlson Tonight was the second most popular cable news show in the US in the first quarter of 2022, and it was only slightly behind The Five. Tucker Carlson is today even more popular than Sean Hannity. If you want to talk about an active conservative, it has to be Carlson.
So, the liberal media thinks it can run a toxic narrative against Tucker Carlson and somehow regain the loss of viewership it has been facing since Trump's exit.
Read more: Joe Biden is officially afraid of Tucker Carlson because he tells the truth and people follow him