Turkey has closed the Bosporus and the Dardanelles Straits to warships since late February. The geographical location of Turkey is such that it sits right across the Black Sea and controls the sea passage from the Black Sea to the Mediterranean. So, if a vessel has to transit between the two water bodies, it must pass through the two Turkish Straits – Bosporus and Dardanelles. Under the Montreux Convention of 1936, Turkey can block ships of belligerent powers from passing through the two Straits during wartime. However, vessels returning to their home bases are allowed to pass even during wartime.
Therefore, Russia's Black Sea Fleet has been immobilised to a great extent due to Turkey imposing the Montreux Convention across the two Straits. At least that is what the world thinks. However, has the Russian Navy's ability to operate in and out of the Black Sea really been impeded? To a certain extent, perhaps. Has the Russian Navy been completely immobilised? Absolutely not.
Yet, with the Montreux Convention firmly in place, the Russian navy's logistics and operational capabilities should have been greatly hampered. That has not happened. Why?
You see, Turkey has already antagonised President Vladimir Putin by enforcing the Montreux Convention under pressure from the West. Now, it seems Recep Tayyip Erdogan is allowing some big legroom for the Russians to operate as they please in and out of the Black Sea. How is that?
Russian Civilian Ships Perform Military Roles Right Under Turkey's Nose
You see, the Montreux Convention applies only to military ships. So, for commercial purposes, free transit through the Straits continues. According to reports, Russia is using this loophole to deploy civilian merchant vessels as naval auxiliaries to supply logistics to its military operations in Syria and Ukraine. Previously, during the start of Russia's Syrian intervention too, Moscow had bought old civilian cargo ships from Turkey, reflagged them, and began using them for its war.
According to the Middle East Institute think tank, Russia is once again using civilian ships to supply its military campaigns in Syria and Libya, and to fulfil existing contracts, such as Rosatom's nuclear power plant construction in Egypt's El Dabaa or exporting defense products to Algeria.
According to the MIE report, Russia is using five types of civilian merchant ships right now. These include vessels owned by logistics company Oboronlogistika, part of the Russian Ministry of Defense; roll-on/roll-off cargo ships (ro-ros) of "private" Russian companies like Moscow-based M Leasing; Russian-flag tankers; Russian- or Syrian-flag bulk carriers and older, non-Russian-flag ro-ros that have suddenly made a comeback in the seas.
Read more: Kurds in Syria and Iranians in Azerbaijan: Turkey set to face the heat at two fronts with Putin's imprints all over it
Turkey's Covert Approval
It goes without saying, Russia cannot operate such a large fleet of non-military, merchant vessels through the Straits without having the approval of Turkey. We are talking about several civilian ships being used for military purposes in the Black Sea and to aid Russian logistical operations in Syria and the Middle East at large.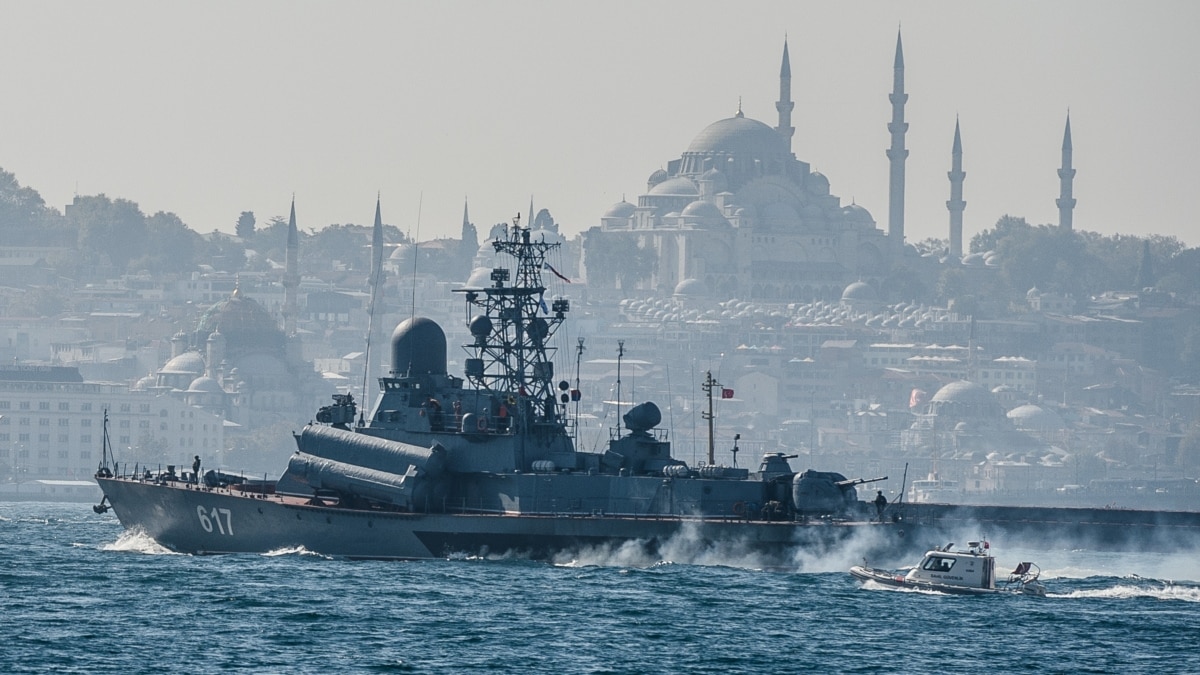 Turkey's Recep Tayyip Erdogan knows exactly what is happening in his backyard, and he has no choice but to allow it to happen. Turkey, walking a tightrope, cannot afford to ditch Russia altogether. Without Turkey's support, Russia doing this without being openly exposed was a nearly impossible task.
Read more: After securing Donbas and Mariupol, Russia begins cutting Ukraine from the Black Sea
Turkey's Ties with NATO and EU Not at their Best
Turkey cannot destroy its ties with Russia. If it disallows Russian movement through the Straits completely, it will risk a conflict with Moscow itself. Right now, given how Erdogan is trying to fight NATO and the EU, that would not be the most prudent choice to make.
Recep Tayyip Erdoğan has doubled down on his threat to veto Finland and Sweden's applications for membership of NATO, saying there is no point in either country sending delegations to Ankara to persuade him otherwise.
Meanwhile, Erdogan is involved in another fight with the European Union. The EU is trying to strongarm Turkey to break ties with Russia and join the West's sanctions bandwagon. Only then, the EU says, it will help Ankara get over its imminent food and economic crisis.
Therefore, at a time when ties with the West are clearly falling apart, the least that Erdogan can do is protect Turkey's relations with Russia. By allowing Moscow to use civilian vessels for military purposes through the two Straits, that is exactly what he is doing.
ALSO WATCH: