According to a media report by Dominica online, Six Caribbean countries are in a debt stranglehold of China. 
Reportedly, Six Caribbean Small Island Developing States (SIDS) are among the top ten islands worldwide with public debt that is higher than their GDP.
According to data from 2020, Barbados is ranked first, with a 157% ranking, followed by Suriname, Belize, Dominica, Jamaica, and Antigua and Barbuda. The majority of this debt is owned by private creditors, with China being the largest creditor, according to Jwala Rambarran, policy advisor for the Caribbean Policy Development Centre (CPDC). 
Mr. Rambarran stresses that, "many Caribbean SIDS do not qualify for low-cost concessional financing from international lenders because of their middle-income status. And, creditors do not take the effects of external shocks into consideration, some going as far back as 1996 with the phasing out of preferential trade agreements for sugar and bananas, the global financial crisis and the fuel hike in 2008, and more recently the COVID-19 pandemic in 2020 and Russia's invasion of Ukraine in 2022."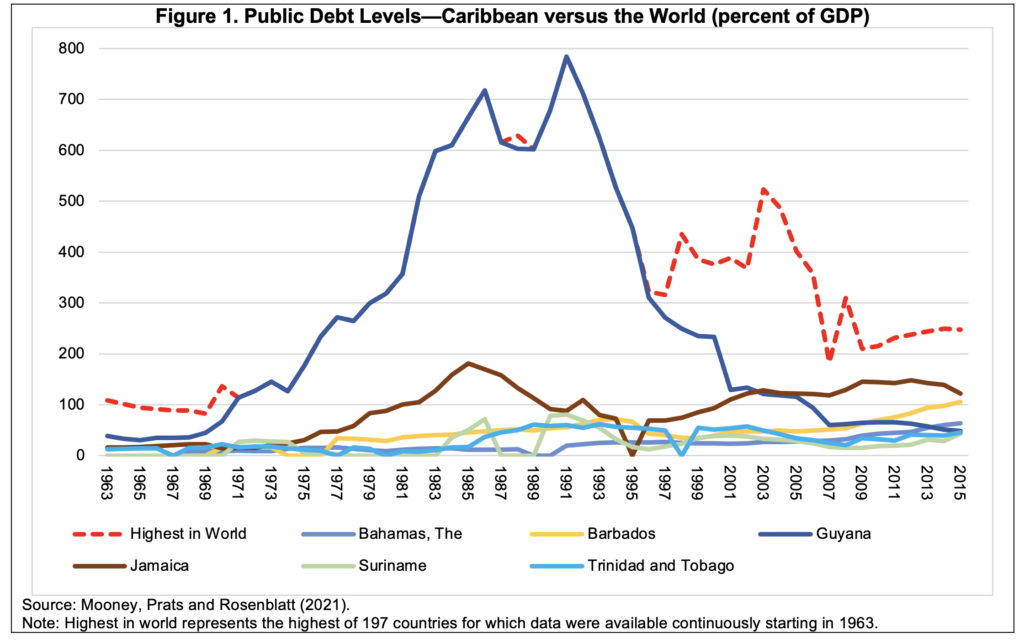 Caribbean SIDS also face the constant threat of frequent and ferocious natural disasters, exacerbated by climate change. He noted that between 1950 and 2021, the region faced 423 named storms, 216 hurricanes, and 100 major hurricanes.  It has been estimated that the region has suffered about US$30 billion in damages over the last 70 years. Hence, the region is in no place to compensate for the credit they have taken. 
A crisis in the making
Well, the total Caribbean debt amounts to almost US$65 billion, of which more than half is domestic debt. This is debt held by local banks, and insurance companies, and monies used for education, health, and local social programs which may not be sustainable.
The organization is calling for debt restructuring and debt cancellation agreements between creditors and takers because as per them, the debt is a time bomb that is slowly and steadily ticking.
Well, the Public debt has steeply increased in Latin America and the Caribbean. In addition, the global economic crisis is also making repayments more difficult.
Read More: Canada is trying to make Europe its Fall Guy in Haiti
China-the real factor
And behind this debt, China has a large role.
China's interaction with and the growth of relations with the Caribbeans started two decades ago. As a result, the Caribbean's debt servicing needs also increased dramatically  from $72.86 billion to $143.74 billion.
Caribbean countries spent more money on debt service in 2019 than they did on health care, led by countries like Belize, Dominica, Ecuador, Grenada, Haiti, Jamaica, Salvador, Saint-Vincent, and the Grenadines.
In some nations, debt servicing consumed anywhere between 6.7% to 38% of state taxes. At this rate, the nations risk suffocating or at the very least becoming significantly unstable.
Read More: Philip J. Pierre's invitation to France could begin an era of colonization in St. Lucia
The red alert
Also, the Caribbean governments welcome investors from across the globe with open arms via the CIP program. Even in that, China is taking part with full devotion.
But, remember, unlike loans from official creditors, private loans have the advantage of not carrying political conditionalities. However, on the other hand, interest rates are higher and may vary according to the credit rating given by Credit Rating Agencies or the evolution of the benchmark interest rates fixed by central banks.
Read More: Egypt has joined BRICS' de-dollarisation campaign
This is just a perfect recipe to make a nation surrender economically and this is exactly what China is doing. Make no mistake, China is not a friend of anyone. But, it can be the enemy of everyone. It's time the Caribbean populace realize what's happening around them.
China is making your governments drink a sweet poison and they are cluelessly doing it.